Happy Friday and Happy Summer!!!
My oldest son, Christopher, arrived from California last night…it is so nice to have him home even though it is only for a week. He doesn't like to leave sunny San Diego for very long (who would?) but I try to lure him home with some home cooking a couple times a year.

Many people are traveling this time of year so there are an abundance of travel posts out there. I also have been spending some time learning my way around Google+ and have discovered some great information there as well.
So… here are a few of my favorites from the past week:
Le Sirenuse
in Positano has officially moved to #1 on my travel bucket list, so it is no surprise that I loved the stunning pictures in
this post
by Caroline of
Inner Outer Beauty
.
Elizabeth, from
Pretty Pink Tulips
is just back from London with her family and posted about her trip
here
and
here
. Be sure to bookmark her recommendation for an excellent tour guide if you are planning a trip to London!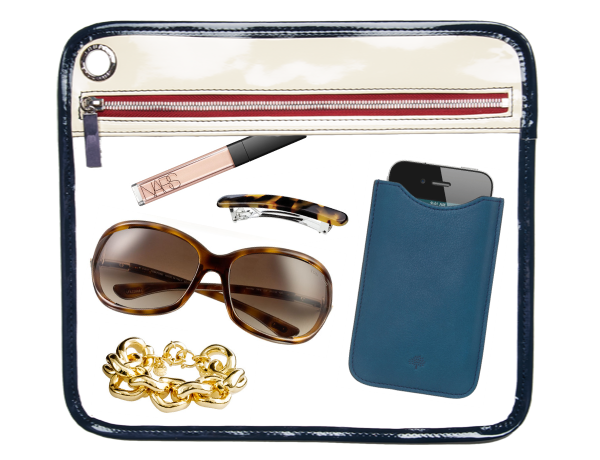 One Truffle Pouch
via
Albertina, from
Mimosa Lane
, wrote a great post on
packing tips
with advice that was spot on. She is heading off to visit family in Spain soon and seems to have packing light down to a science. She has promised me a Spanish post card to add to my collection – I can't wait to receive some snail mail from a blogging buddy!
From Albertina's post, I discovered
One Truffle
…stylish waxed canvas and clear PVC bags of different sizes that are perfect for packing everything from your carry-on liquids to important documents.
The Paris Kitchen
wrote an excellent post on
dining etiquette while in Paris
…this article raises some interesting points that will hopefully keep me from embarrassing myself when dining in Paris this fall!
This is an
excellent article
from the
Wall Street Journal
about dressing nicely when you travel. Call me old school, but I agree – no sweats for me – I always try to look good while I am flying.
Mrs. O Around the World
shared a
very informative piece on hotel fire safety
…many of the suggestions in this article had never crossed my mind and are simple advice we should all take when staying in a hotel.
Have you seen this incredibly fun ad for the Fiat 500L? I have always adored the "Cinquecento" every since I lived in Italy in the 70's…I would love one of the new ones!
Finally, last week I mentioned the impending end of
Google Reader
and wondered what to do. Go
here
to easily move the blogs you follow on Google Reader over to
Bloglovin'
…and while you are at it, follow me on
Google+
,
Facebook
or
Bloglovin'
so you never miss a post!
I am off to enjoy my boys…my "empty nest" is almost full this weekend!
(We miss you, Caroline!)
I hope you all have a wonderful first weekend of summer filled with sunshine, wherever you may be wandering!