I finally did it!!!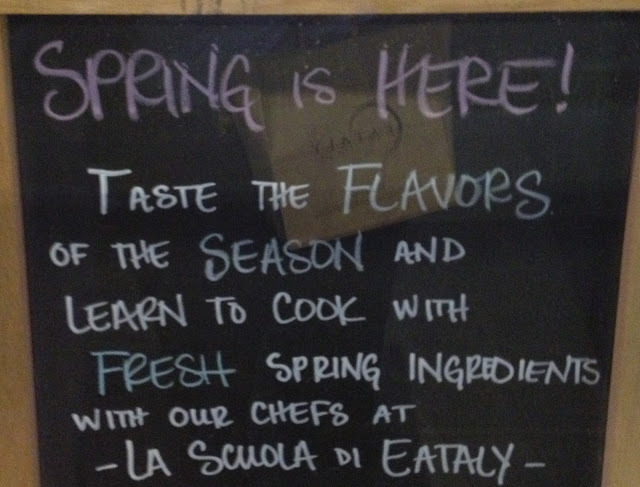 And, to make things even better, I also finally got to meet one of my favorite fellow bloggers, Linda, from
Calling It Home
. She has been a blogging mentor to me from the early stages of
You May Be Wandering
and I was thrilled to finally meet someone who I already considered to be a good friend.
The class we took was called
"The Art of Spring Risotto"
– it was basically a primer on preparing risotto. The class was taught by La Scuola's talented chef, Alicia Walter, and was held in the Scuola Grande right in the front of Eataly. It is a demonstration class, which means that we got to sit back, drink wine and let the chef do all the work…all while she taught us everything we needed to know about preparing risotto.
First, Chef Walter first explained the history of rice growing in Italy, where it is grown (along the Po River) and the many different types of rice used in making risotto (arborio, carnaroli, vialone nano to name a few). She also discussed how with risotto, as with pasta, Italians prefer it to be more al dente than Americans.
While beginning the first risotto dish, the chef also explained the basic process behind making all risotto dishes – cooking of the "fragrants" (ie. onions, garlic, etc), toasting the rice, adding the wine and allowing it to cook off, the slow process of slowly adding heating stock and stirring for up to 45 minutes, adding your vegetables or meat, and finally, finishing with fresh herbs, freshly grated cheese and olive oil or butter. It is a long process, but not really all that difficult. (Particularly if you have a sous chef!)
While we were discussing each course, the wine expert for the evening explained the wine pairing for that course.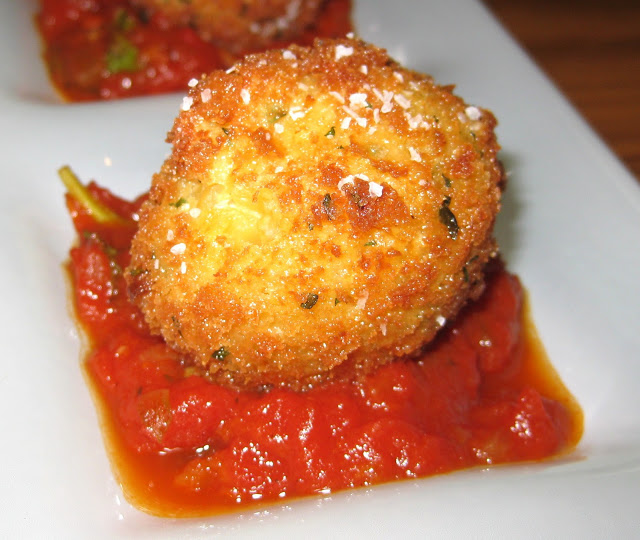 I forgot to take a picture of the Suppli…but here is a good approximation of what it looked like.
via
Our first course was "Suppli Al Telefono Con Sugo All'Amatriciana" – fried risotto balls which are popular in Rome (also called Arancini in Sicily). The risotto is formed into balls or cones, stuffed with mozzarella, breaded and fried. It is called "telefono" because the cheese stretches like a telephone cord (anyone remember the days when phones had cords?). The "sugo" or sauce was a typical Roman"amatriciana" tomato sauce made with guincale (pork cheek). These were absolutely delicious…so good, I forgot to take a photo!! With the Suppli, we had a light Spumante from Liguria – the sparkling wine paired well with the fried dish.
While we were enjoying our Suppli, we watched as the chef and her sous chef prepared the next dish – "Risotto Primavera Alla Erbe" – Spring Vegetable Risotto with Herbs. This was made with the Carnaroli rice and fresh asparagus, peas and fava beans with fresh basil and mint. Delizioso! It was paired with my favorite wine of the evening, a Verdicchio dei Castelli di Jesi from the Le Marche region.
The next dish was "Risotto con Gamberi & Dragoncello" – Risotto with Shrimp and Tarragon (doesn't that sound better in Italian?). This was prepared using the Vialone Nano rice and the same basic method (using freshly made shrimp stock) with one difference…we learned you should never mix cheese with seafood so there is no parmigiano added to this dish. It was my favorite dish of the evening – the tarragon balanced out the shrimp perfectly. It was divine! This risotto was paired with a Rosato from Liguria that had a slightly salty flavor that really worked well with the shrimp dish.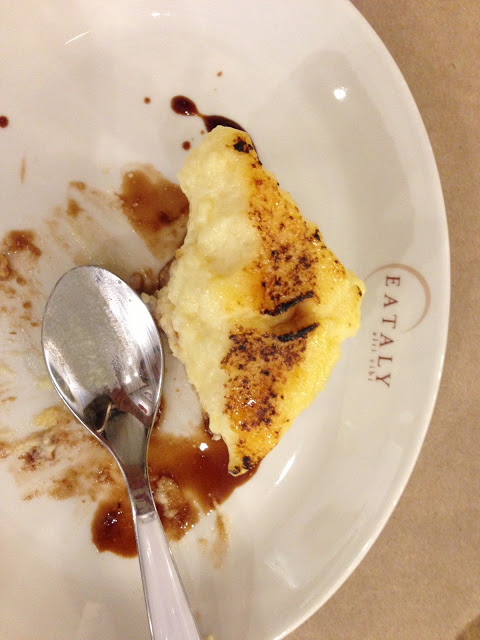 Linda and I both enjoyed this SO much we forgot to take a picture until halfway through…
Via Calling It Home
The final dish of evening was a "Budino di Riso con Uva & Aceto Balsamic" – Baked Rice Pudding with Grapes and Balsamic Vinegar. This dessert was to die for…the chef had earlier roasted the grapes in balsamic vinegar, basically making homemade raisins. After it was baked, the top was bruleed giving it a sugar-y crust…the perfect way to end the evening!
As you can tell, this class went way beyond my expectations…the food, the demonstration, the wine and the recipes all were excellent. I made the Risotto Primavera last night for my family and they loved it! (Just e-mail me if you are interested in any of the recipes….I will be happy to share them.)

La Scuola di Eataly
offers a vast array of classes all year long…it is the perfect thing to do with your spouse or a good friend for an evening out. If you are a visitor to New York City, a class at
La Scuola
is a wonderful alternative to dinner at a restaurant – the food is as good as any restaurant AND you get to learn how to prepare what you are eating. Also,
Eataly
is open until 11:00 PM…after class you can shop for all the ingredients you might need, plus get a chance to see one of the true gems of New York City when it isn't incredibly crowded. For more information and to sign up for classes, go
here
.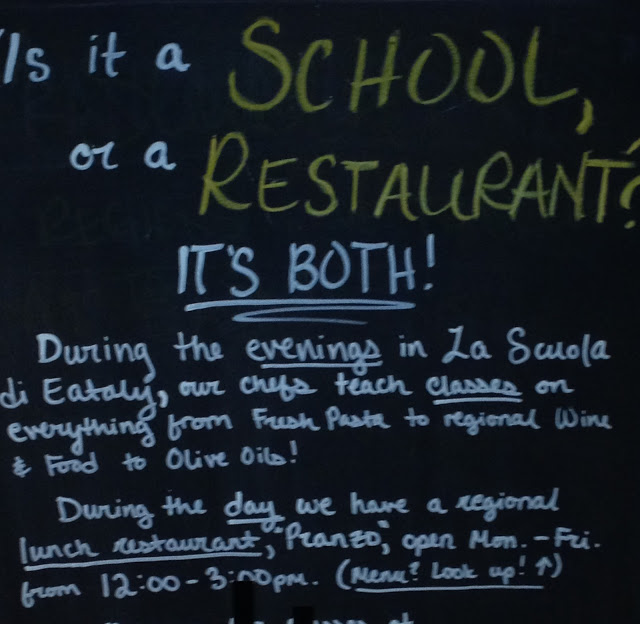 (And, thank you to Linda for sharing her photos since almost none of mine came out.)