I am hearing more and more stories about people who hate to fly. It isn't surprising to me, considering what once was considered a glamorous way to travel has increasingly become a hassle we are forced to endure to get from one place to the next. It is important to me for my travel experience to be enjoyable from the time I leave my house until I arrive at home again. To insure that, I take a few steps before I ever book my ticket to make sure my flying experience will be as pleasant as possible.
First, I know which airlines are going to provide a better flying experience. If at all possible, I fly one of those airlines. Everyone has their own favorites, but a few of mine are: Jet Blue and United/Continental for domestic flights; Singapore Air, Virgin Atlantic and Air France for international flights.

Just as not all airlines are the same, the planes they fly can vary greatly as well. So, the next thing I do is to
look at which types of aircraft
are available for my flights. The best way to do this is via
Seat Guru
. Not only does this site give you information about which seats to select (more on that below), you can enter potential flight numbers and it will show which aircraft is expected to be flown and the various classes, seat configurations and amenities on each plane. They also provide an airline by airline comparison chart where you can compare the seat sizes and other information about each airline and each type of aircraft.

When I get ready to book my ticket, I always consider the possibility of upgrades. On international flights, you may seriously want to consider booking Premium Economy – it doesn't cost a lot more and it is well worth it to get much larger seats and better onboard service, plus priority check-in and faster security lines. Also, upgrades to Business Class may be a very good use of your frequent flyer miles.
Once I figure out my airline, my aircraft and what class I am booking my seat in, the next thing I do is research which seat to select. Again, Seat Guru is invaluable here. Their seating chart will show you information about each seat on the plane and will tell you which seats to avoid. Consider purchasing the extra leg room seats – sometimes for only a small extra charge, you can get quite a bit of extra leg room. Another tip…if two of you are traveling, book the aisle and the window seats – the center seats are the last to be selected and quite often you will end up having an open seat between the two of you.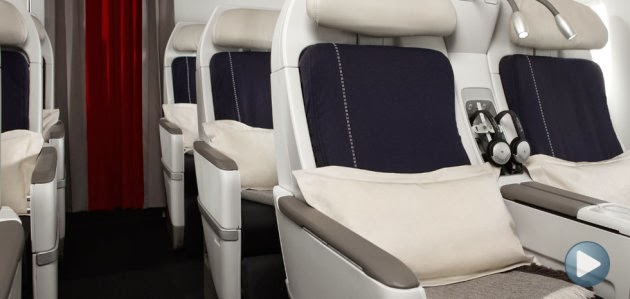 Air France A-380 Premium Economy
via
An example of how I put all of this into practice was on my recent trip to Europe. After researching the different airlines that flew to Venice, I had a handful to choose from. When I discovered I could fly on one of the brand new A-380 double decker planes on Air France (through Paris!), my airline choice was easy. I decided to book my seat in Premium Economy – for my flights it was only an extra $125 each way and was worth every penny. I had a nice large seat on the upper level of the plane (see photo above), which more closely resembled a business class seat than those in coach. I received priority check-in and VIP security access (which was a huge perk because the lines everywhere were VERY long). And, I enjoyed in-seat personal entertainment and several very nice onboard meals including champagne and wine selections. My advance planning paid off and I was rewarded with very enjoyable flight experiences.
More flying tips…here and here.
And, how best to use your frequent flyer miles here.
These steps won't keep your flight from being delayed or guarantee you won't be sitting next to a family with a crying toddler, but by doing a little homework BEFORE you fly, they can help make your flight experience much more pleasant.

~~~~~~~~~~~~~~~~~~~~~~~~~
Don't forget to enter to win my giveaway! All you need to do to enter is sign up for my e-mail list below…