Today I am thrilled to have my dear friend,
Crista Carr Shatz
, guest posting about her days in Bologna following the "
Art and Exuberance in Florence
" tour she led to Florence earlier this month. After reading about travels to Bologna, I have yet another location to add to my growing list of places I
need
to visit in Italy. I am starting to think I should just move there for a year to go everywhere I want to visit in that extraordinary country!
~~~~~~~~~~~~~~~~~~~~~~~~~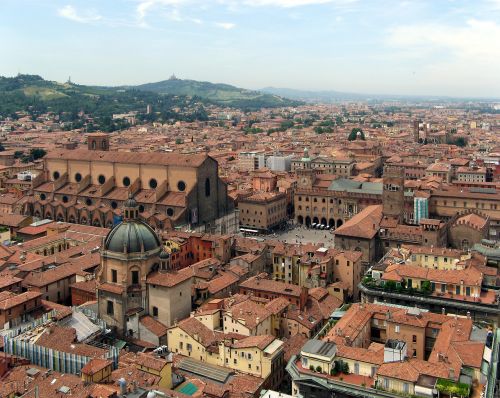 Florence and Venice are teeming with tourists for good reason – each are filled with the world's most glorious art and architecture. But, between them lies another rich and revealing repository of our cultural roots – Bologna. A center of European learning and gastronomy, Bologna is an un-crowded city of graceful arcades where you can literally stroll for miles protected from sun and rain. Bologna's fountains and greenery are stunning and the city is exceptionally clean. Even the canali, which echo of Venice, where old water ducts lap the buildings, are sparkling.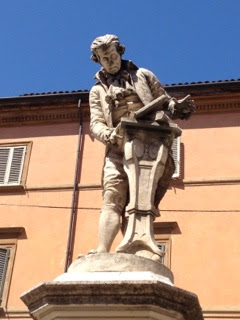 The Renaissance spirit may
have been ignited in Florence, but the perfection of cuisine and the spread of
knowledge emanates from Bologna which is the seat of the first university in the western
world – the University of Bologna, which was established in 1088. It's easy to imagine Bologna's open, balanced central
square filled with inquisitive students and professors 500 years ago – here a
statue is more likely to honor a scientist than a prince or
pope.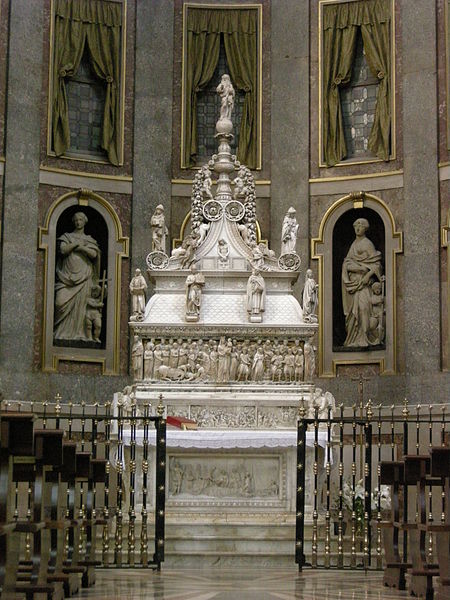 After Professor Amy's orientation to the development of Renaissance style during our Florence trip, it was a pleasure to apply our increased ability to look at art in Bologna's many well-endowed churches. There are magnificent churches filled with plenty of art, including an
altarpiece on which Michelangelo collaborated. He went to Bologna to lie low after his Medici
patrons fell out of favor in Florence and while there he added his genius to the altarpiece of
San Domenico, which presents a vivid example of various sculptural styles side by
side in marble. Santo Stefano's basilica is a complex of seven churches together in the square at the ancient center of city. San Petronio, which was built in the 1300's is the most magnificent church on this central square. To this day the façade is unfinished because nobody could agree on how to finish it. Inside it is filled with great art, architectural details and an excellent museum of reliquaries.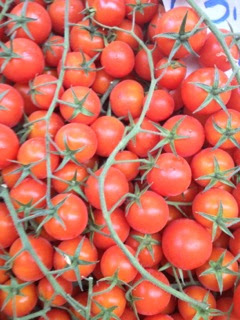 Visiting Bologna in August will make a tomato connoisseur of anyone. There are many varieties, all delicious in Crudaiola – tossed cool and fresh with olive oil, arugula, capers and basil, then slightly wilted with the addition of fresh-cooked pasta – topped of course with freshly grated pecorino. Magnifico! Even better when enjoyed with Montevecchio Isolana Classico Pignoletto 2011.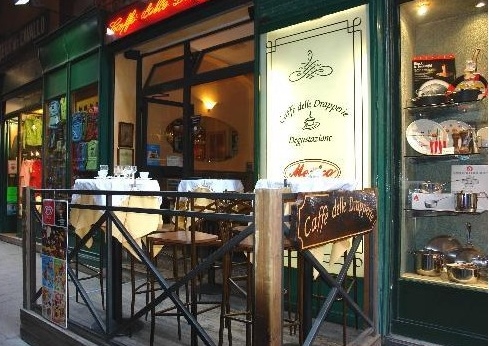 We dined at the three star, Drapperie, perfectly located in the colorful market district where we enjoyed the quintessential fresh produce from the vendor right outside the door and the magnificent salumeria & bakery just steps away. A perfect ending for our day was a beautiful al fresco classical guitar
concert in Oratory of St Cecilia.
~~~~~~~~~~~~~~~~~~~~~~~~~

Thank you, Crista, for this amazing guest post on Bologna…I can almost taste the Crudaiola!