When
I started writing
You May Be Wandering
last July, I
had no idea the doors that it would open for me. Through our shared passion for
all things travel, I have had the pleasure of getting to know
Crista Carr Shatz
, a travel
professional who possesses an innovative and fresh perspective on "the art of
travel". As a
Virtuoso
travel professional, Crista's niche is crafting meaningful
experiences that create a genuine connection with the world around us, and which
will remain with us long after we return home.
Recently,
I was fortunate enough to sit down with Crista and tap her amazingly creative
brain and hear more about her passion for substantive travel experiences in
general, and in particular, a very special trip to Florence she is organizing
for this summer.
Today,
I am very excited to introduce her to all of you and share our interview. You
may want to pour yourself a cup of tea or a glass of wine while we wander to
Italy with Crista…
Can
you tell us about your background and how you found yourself working as a
travel professional?
After
careers in art, education and design, I was drawn to become a travel
professional by a passion to "live on the whole planet". I specialize in
creating – and sometimes leading – trips of discovery for individuals and small
groups. Curiosity driven travel and creating an authentic connection with
people and the places visited is what it's all about. Travel should be
exhilarating, eye-opening and FUN!
A perfect example of "curiosity driven travel" is the
trip you are organizing to Florence in August. Can you tell us about the trip
and what it makes it so unique?

I
am thrilled to be planning and leading Art and Exuberant Living in Florence this August, which will offer an
intimate depth of engagement with art, architecture, Florentine culture
and, of course, the glorious Tuscan food and wine. During our week in Florence,
we will be accompanied by Amy Sudarsky, Professor of Painting and Drawing at
the Art Institute of Boston, as well as hand-picked local experts. They will lead our group on personalized, in-depth
tours which will provide broader insight into the spectacular art for which
Florence is famous. There will also be informal walking tours, market visits,
gallery talks and visits to hidden spots, all of which will reveal glimpses
into Florentine life, both in the Renaissance and the present. Additionally, each guest will have one unique tour individually crafted for them based on their own personal interests.

Each day will
culminate with a "salon" style gathering at our palazzo headquarters for presentations by Professor Sudarsky and our local experts, to share
our daily discoveries, and to enjoy the conviviality of the group over
cocktails. We will enjoy several dinners as a group sharing fabulous food and wine, and, if desired, guests can even have a hand in creating the meal alongside our chefs. Finish off your day with a glass of Barolo and an evening stroll alongside your own personal art expert!
You have arranged for some unique luxury accommodations
for this particular trip…please tell us more about them.

Our
home base for the week will be a stunning 15th century palazzo decorated
in opulent Florentine style with gorgeous frescoes, historic furniture, carpets and tapestries – a masterpiece in itself – just
steps from the Arno River (pictured above and below). We will gather here each morning for breakfast, each
evening for cocktails and lively conversation, as well as for several festive dinners together around our own large table.
Guests

can stay within the Palazzo itself, or nearby in one of the luxurious apartments reserved for our group or the five star

Hotel Lungarno

(enjoying a great deal starting at only 149 euros/night and including Virtuoso amenities).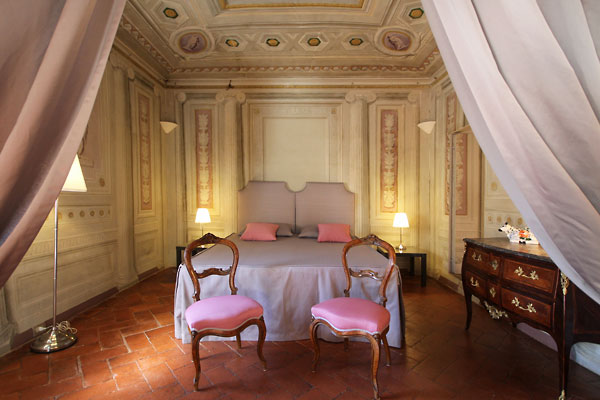 Did
you design this trip with any particular type of traveler in mind? Who would
most enjoy this trip?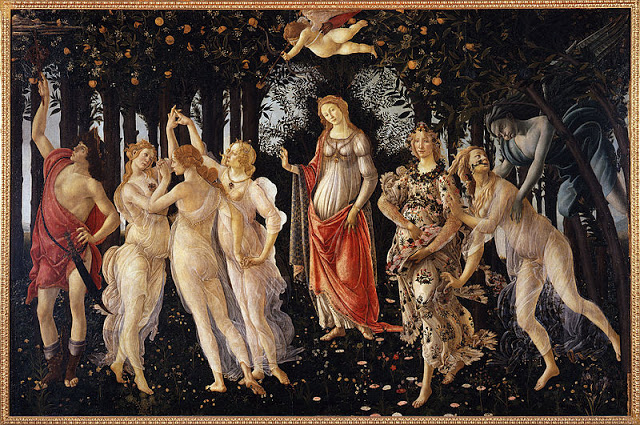 Botticelli's "Primavera"
via Wikimedia Commons
Whether
this is your first trip to Florence or your tenth, this will be an enlightening
journey. The ideal participant is someone who desires to see the world with newly opened eyes…someone who loves the idea of venturing deeper into the art and culture of Florence, both during the Renaissance and in today's society.
My hope is that by living an authentic Florentine lifestyle, in a place where the Renaissance is still so vividly palpable, one can cement a lasting relationship with the art, the people and the culture of this magnificent destination.
Where better to experience a personal renaissance than Florence, the birthplace of
the Renaissance.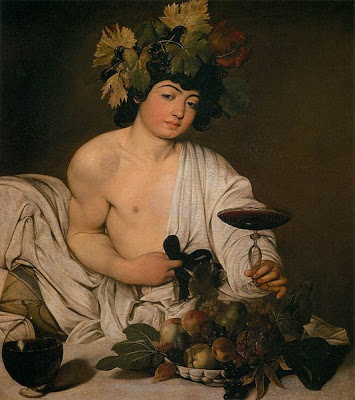 Caravaggio's "Bacchus"
via Wikimedia Commons
This sounds heavenly! Where can we go to find more
information and to join the group for the trip?
Individual attention to each guest's experience is a key

feature of this trip so space is very

limited. Due to the outpouring of enthusiasm for this trip in August, we have decided to also offer the same trip in Spring of 2014. Please visit

my web site

, contact me at info@cristacarr.com

or give me a call to discuss the trip further at 314-401-9797.
Thanks, Crista, for joining us today and sharing your
love of traveling the world. We look forward to you sharing more details of
your wanderings in the future!

~~~~~~~~~~~~~~~~~~~~~~~~~~~~
Who
wouldn't love to spend an eye-opening week in Florence sharing art and culture with an artist, local experts and fellow wanderers, gaining deeper
knowledge and insight into this remarkable destination, all while staying at a
Florentine Palazzo (not to mention the delights of Tuscan food and wine)? This
is a dream trip for me!
You
may have noticed that I added a link to Crista's site to my sidebar…if you
are looking for a top-drawer travel expert who knows how to think outside the
guidebooks, click over to her site. She isn't a sponsor of this blog and she
isn't advertising…I simply want to share with you someone who I believe is
the best of the best at what she does, just as I would recommend her to any
friend who is looking for an excellent travel professional.