If my friend Crista's Art and Exuberance in Florence trip isn't tempting me enough to head to Florence this summer (and, oh, is it ever….), the temptation was made even greater by reading Dan Brown's latest novel, Inferno, which reads like a veritable travelogue of Florence. What Angels and Demons is to Rome and The Da Vinci Code is to Paris, Inferno is to Florence. While some Dante scholars are decrying Dan Brown's blurring of facts in the novel, Italian tourism officials are thrilled that Inferno may draw more tourists to Florence during a downturn in the Italian economy.
Dan Brown was in Florence yesterday, as the keynote speaker at the opening of a literary festival, where he read passages from his book and explained the popularity of his books as a result of mankind's "need for mystery".

Without giving away any plot spoilers, let's take a virtual trip to Florence a la Robert Langdon, the protagonist of Inferno (as well as of Angels and Demons and The Da Vinci Code). For those of you who aren't into the whole Dan Brown 'art history meets literature meets thriller' genre, then you will still enjoy some lovely photographs of Florence.
Medici Grotto at Boboli Gardens
The Vasari Corridor runs above the Ponte Vecchio, connecting the Pitti Palace to the Palazzo Vecchio and the Uffizi Gallery.

The Palazzo Vecchio
The Salone dei Cinquecento (Hall of Five Hundred) inside the Palazzo Vecchio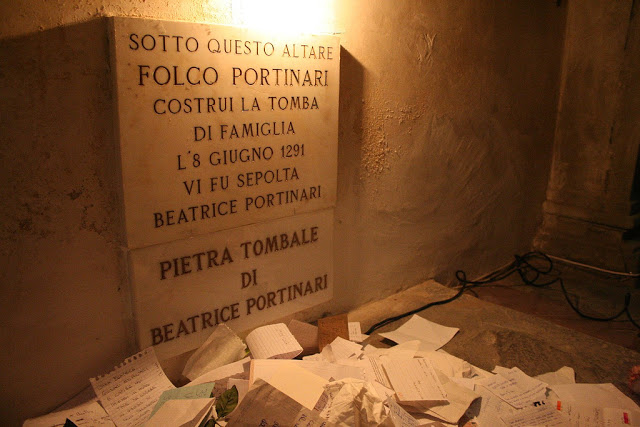 via
Love letters left in front of the tomb of Beatrice, Dante's great love and muse, at the Chiesa Santa Margherita de' Cerchi.

If you want to channel your inner Robert Langdon and spend a week with an intimate group studying the incredible art and culture of Florence alongside an acclaimed artist and other talented guides, there are a few spots left for Crista's Art and Exuberance in Florence trip in August.
If you have plans to be in Florence and want to find out more about Dante's life, consider
this tour
; or you may enjoy
this one
which will take you inside the legendary and mostly private Vasari Corridor…both by
Context Travel
.
~~~~~~~~~~~~~~~~~~~~~~~~
Finally, since it is Friday, I also would like to share some of my favorite blog posts of this the week:
Dianne from
Yonks
writes several lovely posts about her recent trip to France and Belgium.
That about wraps things up for this week…it went a little too quickly for me! I hope the weather is nice this weekend – I would love spend some time reading out by the pool. Any suggestions? I am on a reading binge lately – one of my favorite things about summer!
Have a lovely weekend…wherever you may be wandering…xoxo