I am thinking of beginning a new regular post called "Thirsty Thursday" where I feature a wine, beer or cocktail from a different location around the world each week.
Do you know what the third Thursday of November represents? If you said Thanksgiving you are incorrect – that's the last Thursday of November! Today is "Beaujolais Novueau Day"!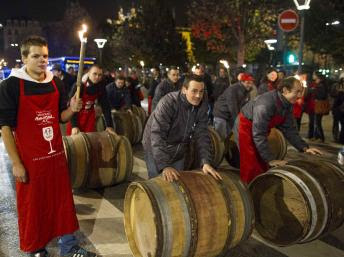 Photo via Reuters
The 2012 Beaujolais' were released at 12:01 am this morning, as it is every third Thursday in November. At one minute past midnight, the race is on to be the first to serve and consume the new batch of the Nouveau.
Beaujolais Nouveau is a young red wine made from Gamay grapes in the Beaujolais region of France. It is bottled only 6-8 weeks after the harvesting of the grapes, hence the "nouveau" in the name. Interestingly, approximately 20% of the harvest will be shipped to Japan where the wine is very popular. The second biggest consumer of the wine is the United States.
Festivals celebrating the release take place throughout France with the largest taking place in Beaujeu, the capital of the Beaujolais region.
Beaujeu hosts a multiday
celebration called Sarmentelles, named for the French word
for the cuttings from the canes of grapevines, which are burned in
the town's center just prior to the midnight unveiling. The huge
barrels of wine are opened to much fanfare and the townspeople indulge in the first tastings of the new wine. In Lyon, they hold the 'Beaujolympics' marking the release of the wine with music and fireworks
followed by several days of sampling. In Paris, restaurants and bistros stay open through the night and uncork
hundreds of bottles after midnight. Many US restaurants are also offering special dinners tonight featuring the newly released wines.
Have you ever participated in a Beaujolais Nouveau celebration?? If so, I would love to hear about it! Also, if you have any suggestions for future "Thirsty Thursday" topics, leave me a comment!!