This is a redux of the same post I do during Thanksgiving week every year…it can't hurt to be reminded once again of ways to avoid the stress of holiday travel!
~~~~~~~~~~~~~~~~~~~~~~

Will you be joining the millions of other Americans flying over the holidays?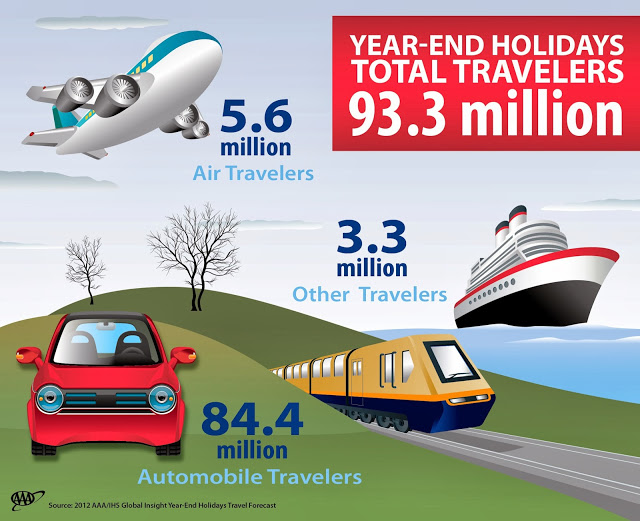 This infographic is from 2012 – for forecasted statistics for 2015 go here.
Navigating airports, security lines and flying can be stressful any time, but dealing with all that on the busiest weekend of the year can turn into a nightmare very easily. Here are a few survival tactics to alleviate as much stress as possible:
Plan ahead:
Consider booking your flights in and out of smaller airports. The security lines will be shorter and air traffic control queues will be less of a problem.
Book your flight first thing in the morning. Air traffic won't have had a chance to back up and flights are more likely to be delayed later in the day.
Try to book direct flights even if it costs a little more.

Do not check your bags if there is any way at all you can avoid it. Send gifts ahead. Ship your bags via a company such as

Luggage Free

.

If you are driving to the airport, keep in mind parking lots may be full. Check out your parking options before you drive to the airport.

Consider paying a little more for faster access through security. Many airlines offer priority lines if you pay an additional fee. If you are ever going to pay extra for this type of service, the holidays would be the time to do it.

Check the weather in both your departure and arrival locations. If the weather is questionable be prepared to make alternative arrangements. The airline may let you change your flights for free before you leave home if there is impending bad weather.

Bookmark

airlinenumbers.com

on your phone or laptop so you will have the information handy if you need it.

Install an app such as

FlightAware

on your phone or request text updates on your specific flight to stay on top of any gate changes or delays.
Day of Travel:
Get to the airport VERY early. It's taken me my whole life to learn this lesson and, once I did, it was a game changer. Nobody likes to spend their day at an airport but it's even worse to be standing in a security line watching the minutes tick by just knowing you are going to miss your plane. Arrive several hours early – if you breeze through security, consider yourself lucky and go grab something to eat, sit down and read a book or magazine.

Print your Boarding Passes at home (ideally 24 hours before you are traveling). I am always amazed that people don't do this – it's so simple to print your boarding pass ahead of time and eliminates one entire line at the airport.

Dress and pack your carry-on bags with airport security mind. Be ready with your plastic bags and containers under 3 ounces. Wear shoes that are easy to take on and off. Don't wear a lot of jewelry and accessories that may need to be removed when going through the scanners.

Pack snacks for the airport and plane (just no liquids). Airlines rarely serve food any more and even if they do, if you are in a long delay situation, that bag of chips will not last you all day. Protein bars, apples and nuts are all things that are easy to toss in your carry-on just in case.

If your flight is canceled or it looks like you may miss a connection, call the airline from your cell phone rather than waiting in line at the customer service center (or call while waiting in line and deal with whoever you reach first).

Patience, Patience, Patience – A good attitude even in the craziest situation will help reduce your stress level considerably.

That's a lot of information – I hope it helps! Do you have any other strategies for reducing stress while flying during busy times?? If so, I would love to hear them. I won't be traveling this Thanksgiving or Christmas – MY number one strategy for travel over the holidays is to invite everyone to my house!!