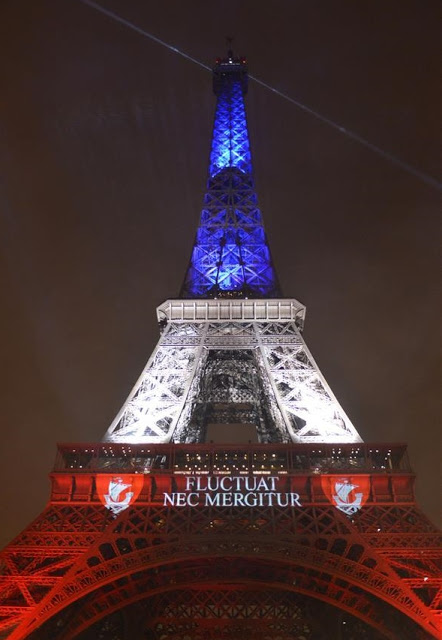 Fluctuat Nec Mergitur is Latin for "Tossed But Not Sunk" and the motto of Paris…So appropriate for this week and I can relate completely.

I want to thank everyone for all of your heartfelt comments and emails regarding my post about my sister on Monday. I am crawling through this journey of grief, knowing that eventually it will get easier, but that I also will never truly recover from this loss. It is my hope to return to blogging on a regular schedule eventually but, in the meantime, I hope you will all bear with me while I go at my own pace. 


While dealing with my own grieving, I also have been overcome with sadness for the events that took place last week in Paris, my favorite city in the world. Knowing so acutely the pain of losing someone close to me made my heart break even more for the families of all the victims of the attacks on Paris. 
 
 I had scheduled
this post for October 26th – I was away on vacation and had scheduled several blog posts in advance. Our vacation ended abruptly when we learned of my sister's accident and headed to North Carolina. After that, I just couldn't bring myself to
go about blogging as usual so I canceled the posts I had scheduled.
 
The world can sometimes be incredibly scary, but as I know all too well, terrible things can happen at
any time and in any place. We need to live our lives to the fullest and enjoy every
moment we can…if that means visiting Paris, then by all means
go! So in honor of the beautiful city of Paris, I hope you enjoy this gorgeous rental apartment on the Left Bank…




In searching for Paris apartment rentals for a client, I came across this gorgeous gem of an apartment in the heart of the Left Bank of Paris. It is situated ideally between Boulevard Saint Germain and the Luxembourg Gardens, just steps from the beautiful St.Sulpice church. Isn't it très joli?