Happy Monday! I hope you all had a fabulous weekend! Here in the Northeast we are settling in and awaiting the arrival of the Blizzard of '15…cross your fingers that it won't be as bad as they are forecasting!!
Do you ever feel overwhelmed when dealing with foreign currency when you are traveling? If so, you definitely are not alone!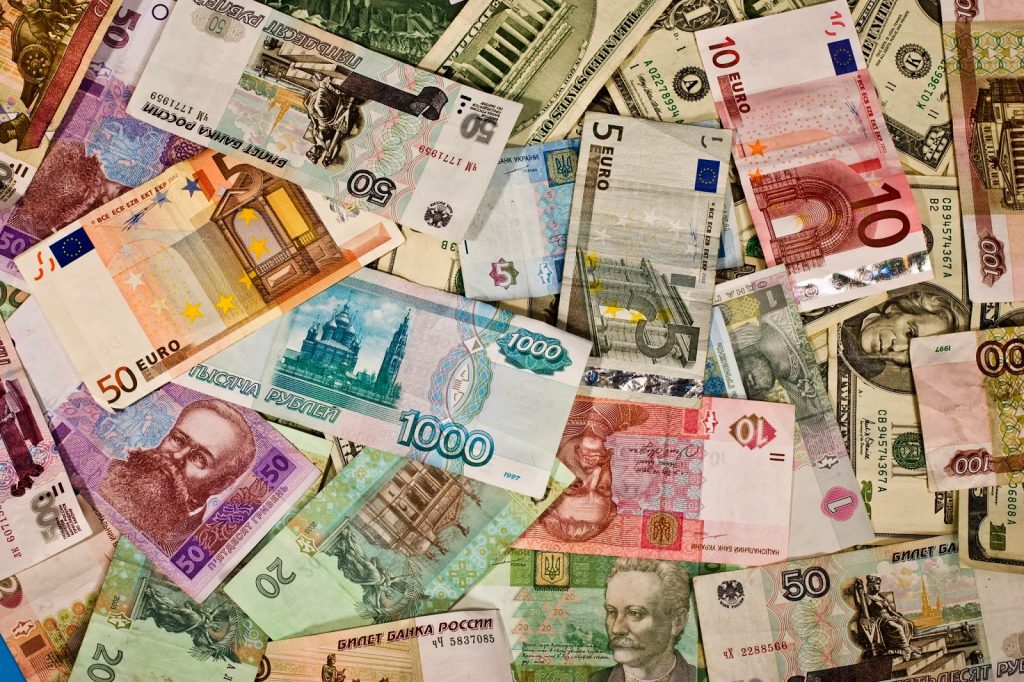 Even the most sophisticated travelers often find themselves perplexed when it comes to exchanging money. Here are a few tips for dealing with foreign currency transactions when traveling abroad:
(for readers outside of the US, I used US dollars as the default currency for this post. You can just substitute your home currency for USD – the same tips apply.)
Consider getting a credit card that does not charge a foreign currency transaction fee (go here for a listing of options or call your bank). While you are traveling use this card for as many purchases as you can – not only will you not pay a transaction fee, the credit card companies give you a competitive exchange rate.
Know the current exchange rate. Use a currency conversion site such as XE (my favorite) to familiarize with the local currencyof your destination. Knowing the prevailing rate allows you to easily calculate what things cost in US dollars and also to steer clear of Forex counters that are with very unfavorable exchange rates.
Do not purchase foreign currency in the US.
You will get a better exchange rate at your destination. (But make sure
you find an ATM or Forex counter at the airport when you land before hopping in a taxi and realizing you only have US dollars!)

Use ATM's to get cash in the local currency. Even if your bank charges a fee for non-bank withdrawals, the exchange rate is still better than a Forex counter (which often charge as high as 15% on every transaction). Check with your bank before you leave to make sure your PIN is compatible with machines in your destination.
Always travel with some US dollars (and
leave it in the safe at the hotel). If for some reason your credit card
or ATM card does not work (or, god forbid, they are stolen), you will
have some cash to convert to the local currency in an emergency.
Don't fall for "no fee" exchange counters. What you save by not paying a fee, you pay in unfavorable exchange rates.
Always pay in the local currency. Occasionally, you will be asked if you would like to pay for an item in US dollars – do not do this. The exchange rate for these transactions is always unfavorable and there are often additional fees, plus your bank may still charge a foreign transaction fee.
Plan your daily budget in the local currency.
For example, if you know you want to spend 300 USD per day while
traveling in Japan, you can calculate that, in Tokyo, you will have
roughly 35,000 Yen to spend each day. Thinking in terms of the local
currency eliminates the worry of translating every transaction to
dollars.
Leave no local currency behind.
The goal is to have none of the local currency left in your wallet when
you leave. Stuck with a lot of local currency? Pay part of
your hotel bill in cash. And remember, you cannot convert coins, so be
sure to spend them too.

~~~~~~~~~~~~~~~~~~~~~~~~~~~~
I hope these tips help take some of the confusion out of exchanging money while traveling in foreign countries. Please feel free to share any tips you may have about currency exchange or anything travel related…I love hearing ideas from readers!
For my American readers, the US Dollar is stronger than it has been in a number of years…NOW is the perfect time to plan a trip abroad!!