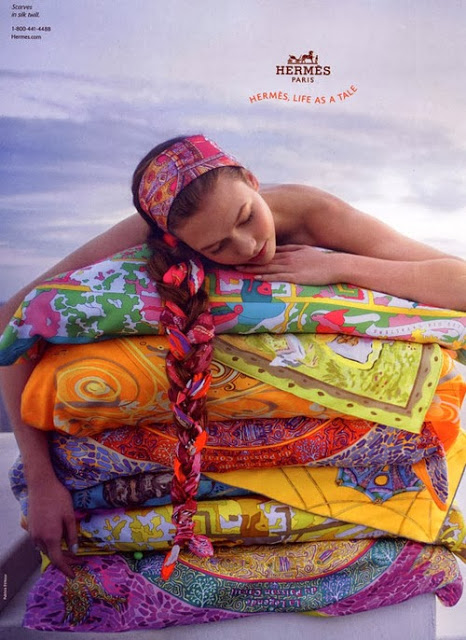 My favorite souvenir from any trip to France is an
Hermès
scarf. Yes, it is a splurge but considering the quality of workmanship and the fact that they last forever and never go out of style, means you cannot really go wrong investing in one or two. I have collected quite a few over the years between gifts and my "souvenir" purchases, but the Hermès scarf that I wear the most often is the very first one I ever bought – at the flagship Paris store in 1984 when I was 21 years old!
An Hermès scarf is an accessory that can take even the simplest black outfit and kick it up a notch. I love packing a couple when I am traveling because I can change the look of my "capsule" wardrobe by simply switching my scarf.

Click
here
if you cannot view the video.
For those of you who, like me, are always looking for new ways to wear your scarves, Hermès just launched a
free app
for iPhones and iPads which includes six films and twenty one "knotting cards" showing you different ways to tie your scarves. It also shows highlights from the current collection.
I also love
Mai Tai's Picture Book
, a blog which showcases Hermès scarves and unique ways to wear them, as well as selling a fantastic line of scarf rings, fur scarf collars and other gorgeous accessories to wear with your Hermès scarves. If you are a fan of Hermès, you will LOVE this blog!
Today, I am on the hunt for this scarf from a few years back…

It is called "Fleurs D'Indiennes" and I love how the look changes depending on how you tie it. If I can't find it at the flagship store in Paris, I won't be able to find it anywhere.
I promise to report back on my latest "souvenir"!