~~~~~~~~~~~~~~~~~~~~~~~~~~~~~~~
Thank You Ritz Carlton Cancun
(Reposted from You May Be Wandering, October 11, 2012)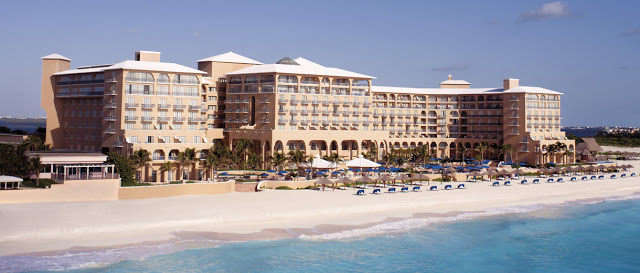 Photo via Ritz Carlton
Last week, my husband and I went again (this trip was our ninth time!) for a four day vacation. It was the first resort trip we have taken in a few years – between sending all three children off to college and out into the working world and taking several trips to Europe, we hadn't taken a relaxing getaway for just the two of us. Despite the rainy weather, we still had a wonderful time and it all comes back to one reason – our wonderful hotel.
Hotels aren't awarded five diamonds by AAA easily – the Ritz Carlton Cancun earned five diamonds for the resort and five diamonds for both of their fine dining restaurants, making it the only hotel out of 62,000 rated by AAA to earn this distinction. They take this seriously down there – their service and quality reflect it in everything they do.
Before I even booked our trip, I began e-mailing with Fernando in reservations who assured me he would be reserving the exact room where we always stay – a gorgeous oceanfront suite on the 7th floor with picture windows and a balcony facing the ocean and another balcony facing the pool. We were fortunate enough to get a great deal that included breakfast and a daily resort credit. Fernando also arranged our transportation to and from the airport.
Upon arrival at the very modern and spotlessly clean Cancun airport, we were met by our driver, Ricardo, who also drives for the owner of the hotel. We had a lovely conversation with Ricardo (he speaks fluent English as most everyone who works at the resort does) on the short drive to the hotel, while he filled us in on all the new restaurants in the area that had opened since our last visit.


After being "Welcomed Home" by name by several staff members, our suite was ready for us as soon as we checked in. A gorgeous flower arrangement, and a tasty amenity of fresh bread, meats and cheese were waiting for us in our room and room service quickly brought a bucket of ice and some soft drinks, courtesy of the hotel. We did indeed feel as if we were home thanks to the warmth of the staff at this lovely hotel.
One of the highlights of our previous trips to the Ritz Carlton Cancun has always been the buffet breakfast. Once again, El Cafe Mexicano did not disappoint. There is something about awakening to the sound of the ocean and going downstairs to be treated to a gorgeous spread of champagne cocktails, fresh fruit and omelets prepared while you wait, all served by the warm and friendly waitstaff, that starts off your day perfectly.




We didn't get as much beach time as we would have liked but when the sun was shining, we enjoyed relaxing in one of the blue cabanas on the beach, riding the waves in the crystal blue Caribbean (Cancun is one of the only places in the Carribean that has real waves, something we enjoy) and swimming in one of the two large swimming pools at the resort. Waiters brought us ice water and thirst quenching margaritas to our cabana – it just doesn't get any better than this!
The highlight of this trip was a "behind the scenes tour" of the hotel given by the Chef de Cuisine, Rory Dunaway. This tour was incredible and is deserving of it's own post which I will write about tomorrow.
Another special event at the Ritz Carlton Cancun is the Sea Turtle Release which we have been fortunate enough to experience on previous trips – I also am going to dedicate a special post to this as well.


Whether dining in one of the two amazing five star restaurants, eating on the beach in one of the candlelit casitas, relaxing in the spa or just walking in the lobby, everyone at the Ritz Carlton Cancun is always treated with such genuine warmth and kindness. The service is what takes this resort to a level beyond any luxury hotel where I have ever visited.
There is no doubt in my mind that the Ritz Carlton Cancun is more than deserving of all of it's many accolades – this hotel is truly special and is on the top of my list for places I would recommend my readers to visit.
Thank you to all the wonderful Ladies and Gentleman at the Ritz Carlton Cancun! We can't wait to return!