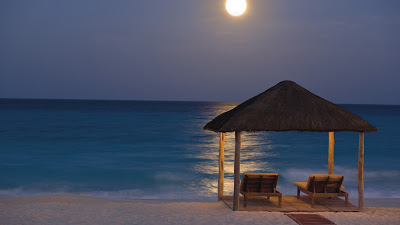 Photo courtesy of Ritz Carlton Cancun
Whenever I tell someone that one of my favorite places to vacation is Cancun I am often met with a puzzling look and loaded questions. While Cancun might not be a destination that appeals to every one, it is most certainly much, much more than it's reputation as simply a Spring Break destination.
After extolling the virtues of my recent trip for this entire week, I thought I should lay to rest some of the misconceptions about Cancun. Here are answers to a few questions that I often hear about Cancun:
Is it safe there? Yes, Cancun is safer than many American cities based on recent statistics. While there has been a lot of press about Mexico being unsafe for tourists because of drug violence, Cancun has managed to remain unscathed in that area. The biggest risk to tourists is the rip tide in the Caribbean rather than drug cartel violence.
Isn't it just a bunch of drunk Spring Breakers? No, since Spring Break lasts approximately 2-4 weeks every year that leaves approximately 95% of the year with no partying college students. During those few weeks, Cancun does fill up with kids looking to have a good time, but if you stay in a five star hotel you probably won't even know they are there. I have been during Spring Break and because I keep a completely different schedule than the typical 21 year old, I haven't even seen them.
What is there to do there? While the majority of the time I spend in Cancun is spent lounging in a cabana in front of the Ritz Carlton catching up on my latest novel, there is plenty to do. Beyond the typical resort activities, Cancun offers many options for tourists. It is a mecca for scuba divers and snorkelers with amazing reefs nearby and the Underwater Museum discussed
here
. There are many Mayan ruins such as Tulum or Chitchen Itza within easy distance for a day trip. If you love to shop, there are several lovely modern shopping malls with high end retail outlets. The Ritz Carlton even offers cooking classes with their chef several times a week.
Is it safe to drink the water? Most large hotels have purification systems, but at the same time, all restaurants and hotels offer bottled water. Just be smart and you don't have worry about the water.
Is it "authentic" Mexico? Okay, so Cancun isn't a charming little village. It's a modern resort community with high rise hotels and modern conveniences. I would compare going to Cancun more with going to Miami. If you want charming, authentic Mexico, you should go to San Miguel de Allende. If you want to five star hotels, excellent restaurants and a gorgeous beach then Cancun may be perfect for you.
Is it hard to get to? That is the best thing about Cancun. It is within a four hour flight of most of the continental US. There is a modern airport a few miles away from the hotel zone and it is easy to book transfers or take a taxi to and from the airport.