We will continue our
island hopping trip
with quite possibly my favorite island of them all and a place where I have spent many memorable family vacations –
Nantucket, Massachusetts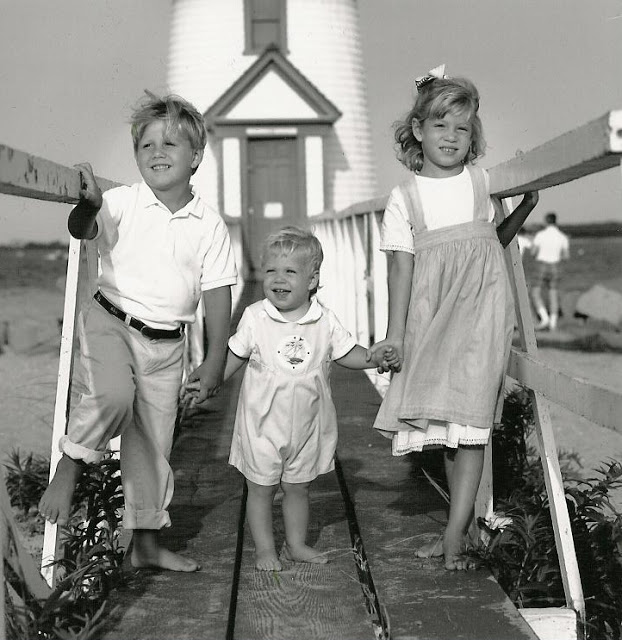 My all time favorite photo of my children taken on Nantucket in front of Brant Point Light, by Cary Hazelgove in 1994.
It will be next to impossible to do Nantucket justice in only one post. (My friend Linda from
Calling it Home
dedicated an
entire month
to it!). Volumes have been written in travel guides, photo books and even in some very good novels about all there is to see and do on Nantucket.

Admittedly, I have not spent much time in Nantucket in a number of years and I understand it has changed quite a bit. As our children got older, we began to travel more rather than vacationing in one place every summer. So rather than trying to share the most up to date "hot spots" with you or cover everything there is to see and do, I am going to share the classics – my favorite things about Nantucket that haven't changed in years and years and which make it all the more special.
DO:
Go to several of the breathtaking beaches – Jettie's for a wide sandy beach and calm waves, Miacomet for gorgeous dunes and quieter beaches, Madaket and Cisco for surfing, or off-road it to Great Point for solitude (and that is only a few of the many beaches around the island).
Rent bikes – it's a great way to get around with miles of bike trails all over the island.
Drive out to S'conset (short for Siasconset) and see the gorgeous rose covered cottages, beaches surrounded by high dunes and the imposing Sankaty Head lighthouse.
Stroll along the cobblestone streets downtown and along the wharves that line the harbor.
Visit the Whaling Museum for a history of whaling around Nantucket.
Charter a sailboat for a sunset sail.
Go on a whale watch (not for the faint of heart – we saw a ton of whales but I was SO seasick that day).
Take a picnic and watch the sunset over one of the west facing beaches.

I haven't kept up with the restaurant scene on Nantucket (and there definitely IS one) so my choices are the old school standbys…nothing fancy, just quintessential Nantucket. These are all places I wouldn't miss on a trip back…
I have eaten at all these places years ago – the fact that they are still going strong says a lot. The current great reviews say even more.
Many families enjoy renting a home and staying on Nantucket for several weeks or even the entire summer. While this is an ideal option, there are many other places to stay on Nantucket.


I am not going to include shopping in every island I cover, but I couldn't NOT include it for Nantucket. I love shopping on Nantucket! Main Street and the side streets off of it have one great store after the next. Here are my favorites:
Oh,wow, just writing this is making me NEED to plan a trip to Nantucket as soon as possible!!