Last, but hardly least, comes a tropical paradise that rivals any in the world…no passport required…
Maui, Hawaii
It pretty much goes without saying that Hawaii is a wonderful place for a vacation…We honeymooned on Maui and Oahu, not surprising since Hawaii is one of the most popular honeymoon destinations in the world.
As popular as Hawaii is for honeymooners, many people don't realize just how perfect it is for a family
vacation. All of the Hawaiian Islands are idyllic but I selected Maui as a top island for families because there is so much for everyone in the family to do. Where else can kids climb around the top of a volcano and learn to surf in the same day?? Look for a resort with activities for the keiki (children) such as lei making or hula dancing.
For those of us on the east coast that aren't lucky enough to hop over to Hawaii for a long weekend, one way to break up the trip (which is very important with kids of any age) is to lay over for one night in San Francisco, another fun family destination. We did this when we took our three kids to Hawaii and they really enjoyed the "day trip" to San Francisco. (To make things easier, we stayed at an airport hotel but rented a car and spent a whole day exploring the city.)

DO:
There is SO much to do on Maui, that it is hard to know where to start. Here are a few "family friendly" ideas:
Go above the clouds to the top of Haleakala, the 10,000 foot high volcano…braver souls than me can bicycle down from
the top (there are tours that drive you up to the top and then provide the bicycles for the ride down). For early risers the sunrise from the top of Haleakala is spectacular.
Drive the Road to Hana. Admittedly a full day in a car driving around hairpin turns with a car full of kids may not be your idea of fun, but this drive through tropical forests with stops at waterfalls and sacred pools is a highlight of any trip to Maui. If you are able to continue onto to the other side of Haleakala (many rental car agencies disallow driving this part of the roat), the moonscape-like setting contrasts remarkably with the lush green tropics of the first half of the trip.
Consider splurging on a once in a lifetime helicopter tour for an opportunity to see remote areas of other islands including the live volcano at Kilauea.
Take a surfing lesson…for the more adventurous, take a kite surfing lesson.
Watch the
sun set over Lahaina during an authentic Hawaiian luau (it may be cheesy, but it is a quintessential part of the Hawaiian vacation experience).
Ride the Sugar Cane Train, a genuine 1890s train from Lahaina to Puukolii, enjoying dramatic vistas of the West Maui mountains and the ocean along the way.
EAT:
Hula Grill
– Enjoy fresh Hawaiian cuisine while the kids sit at a counter in the kitchen area to see the chefs create the dishes. Or, eat outside with your toes in the sand at the Barefoot Bar.
Mama's Fish House
– Amazing fresh fish in an lovely old world Hawaiian setting, on the beach in Paia, a funky little beach town on the North Shore.
T Komoda Bakery
– Experience old Hawaii at this bakery that has been in the same family since 1916…they are known for their cream puffs but everything is good.
Ululanis Shave Ice
– Don't miss the Hawaiian specialty of Shave Ice…Ululani's is known as the best.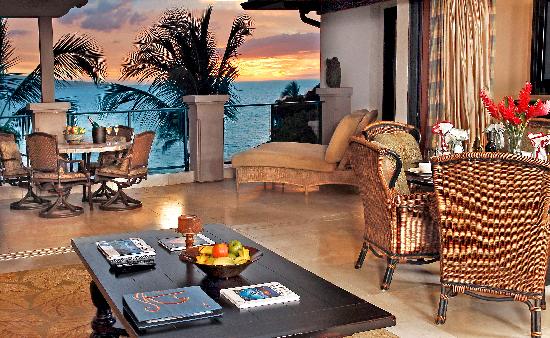 Wailea Beach Villas
via
STAY:
Fairmont Kea Lani
– With all suites and villas, this is a great place to stay with the family…they are known for the excellent "Keiki Lani" children's programs.
Wailea Beach Villas
– Enjoy a little more room to spread out including full gourmet kitchens in these ultra-luxury villas right on Wailea Beach. You will still have full service hotel amenities including twice daily maid service and concierge. This is truly the best of both worlds.
~~~~~~~~~~~~~~~~~~~~~~~
That wraps up our week of island hopping! I hope you enjoyed it as much as I did! Have a great weekend!