This afternoon we are headed to sunny California…home to endless summer and miles of beaches, and an island just 22 miles off the coast of Los Angeles that will transport you worlds away from the hustle and bustle of the city…
Catalina Island
Catalina Island is a great way to escape from the Los Angeles area, where cars are an absolute necessity, to an island where no cars are allowed at all. The only vehicles you will find here are golf carts and bicycles.
Hop on the ferry for a short 75 minute ride or, even better, opt for the 10 minute helicopter trip, and you will find yourself in an idyllic place for family getaway – even if it is just for a day trip!
The island was once 99% owned by William Wrigley (of chewing gum and Chicago Cubs fame) and his family – the Cubs held Spring Training on Catalina for 30 years. Wrigley's heirs ultimately deeded 90% of the island to the Catalina Island Conservancy to protect from over-development.
DO:
Rent a golf cart or a bike.
Snorkel in the clear blue waters around the island, including the Casino Point Marine Park, Southern California 's first city-designated underwater park with an abundance of marine life, giant kelp forests and several shipwrecks to explore.
Enjoy hiking or biking the mountainous terrain of the island.
Go take and eco-zipline tour across the island (see video above).
Try to spot a wild buffalo – descended from a herd left behind for a movie shoot in the 1920's.
EAT:
Grab some fish tacos, sit outside and people watch at
Eric's On The Pier
– a snack bar on Green Pier that has been in business since the 1920's.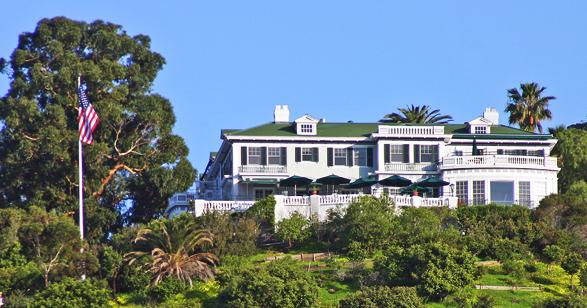 Inn On Mount Ada
via
STAY:
The Inn On Mount Ada
is the former home of William Wrigley. While it only has six rooms, they overlook much of the island from their perch atop Mount Ada.
The Avalon Hotel
, in the heart of Catalina's main town of Avalon, is more in the center of the action with modern amenities. Many of the rooms have gorgeous views of the harbor.
~~~~~~~~~~~~~~~~~~~~~~~~~~~~~~~
Next up…San Juan Island, Washington and last, but certainly not least, Maui, Hawaii!!