Lately I have been taken with gorgeous images of cherry blossoms…maybe it is the fact that it snowed yet again this week and I am completely ready for Spring, but I just can't seem to get them out of my head.

In Japan, where cherry blossom viewing is a national pasttime called hanami, similar to fall leaf peeping in the US, the trees are in bloom earlier than usual this year. They are at their peak now. In Tokyo alone there are numerous parks each with thousands of cherry trees. This post tells offers a listing of places in Tokyo to view the blossoms.


Washington Cherry Blossoms along Tidal Basin via GP Network
The National Cherry Blossom Festival begins today in Washington, DC, although this year the blossoms will not be at their peak until the first week in April. The original cherry blossom trees in Washington were a gift from Japan in 1912, followed by more in 1965. Many of the trees are planted along the tidal basin in downtown Washington, created an ethereal reflection on the water when they are blooming.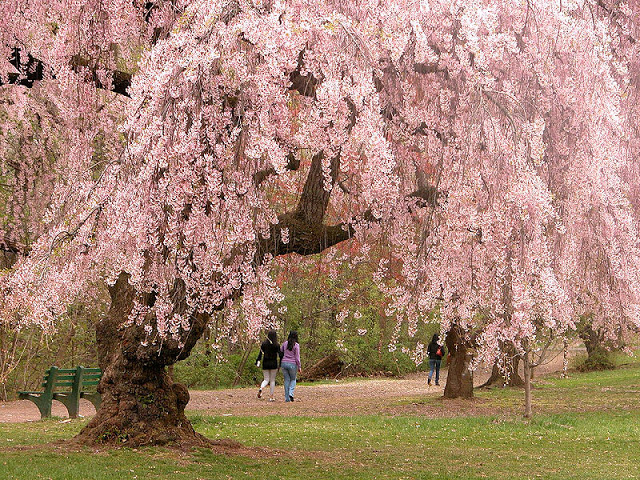 Newark, New Jersey via Wikimedia Commons
Other Cherry Blossom Festivals in the United States are in Newark, New Jersey; Philadelphia, Pennsylvania; Brooklyn, New York; and Macon, Georgia.
Apparently, I am not alone in my love of the cherry blossom – it seems to have inspired everyone from fashion designers to bakers…
My favorite cherry blossom viewing is in my own front yard…when our weeping cherry trees begin to bloom, I know Spring is finally here!