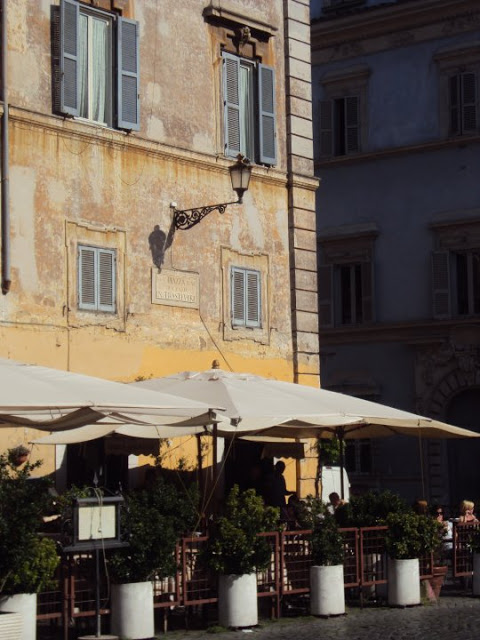 Photo by my daughter, Caroline
Beware the Ides of March? Today may have been an inauspicious day in Rome for Emperor Julius Caesar back in 44 BC, but for the rest of us it just means we are less than a week from Spring!
In our virtual travels through Rome this week, we have already pretty much managed to eat our way around the entire city. Between meals, I guess we need something to do…How about taking in the some of the greatest historical and religious sights in the world??
NOTE: I want to thank a new reader and blogger, Emily, from
The Farm Files
. After one of my recent posts, she kindly offered to share photos of her recent trip to Italy. Since photography isn't my forte, I often have a hard time finding photos to go with my blog posts. It is nice to share a reader's photos rather than using stock or Pinterest photos. Definitely check out
Emily's blog
– it is a fun account of her life as a professional woman while also living on the farm that has been in her family for generations…plus she just got engaged so it will be fun to follow her wedding planning!
Here are some of my "do not miss" things to see and do in Rome:
Just Wandering:
One of the most important aspects of traveling is simply wandering and taking in whatever interesting things you see along the way. Rome is the perfect city for doing exactly this and it is very important to build time into any itinerary in Rome for "just wandering" in any of these areas:

Centro Storico – The historic city center, it is where you will find many of Rome's historic sites, from the Campo de' Fiori to the Pantheon to Piazza Navona . The whole district is a wonderful maze of cobblestone streets. This is the area most people think of when they envision Rome; the old center of the city and one that attracts millions of visitors every year.
Spanish Steps – Rising over the Piazza di Spagna in the very heart of Rome is a monumental baroque staircase. The fountain at the foot of the steps was designed by Bernini's father at the end of the 16th century, and it's reputed to have the sweetest water in Rome.
Trevi Fountain – This fountain is an 18th-century extravaganza of baroque stonework ruled over by a large statue of Neptune. Visitors come here at night to toss a coin into the fountain, which is said to ensure that you will return to Rome.
Piazza Navona – The most beautiful square in all of Rome — and best seen at night. It is unspoiled by new buildings, or even by traffic. In the center is Bernini's Fountain of the Four Rivers, floodlit at night. During summer evenings there are outdoor art shows. Some of the oldest streets in Rome surround Piazza Navona. There is no more romantic place to dine in all the city.
Via Del Corso – The main road connecting Piazza Venezia to Piazza del Popolo . Here, among other things, you can find elegant palaces dating back to ancient times. Taking a walk down this road, and the side streets off of it, you will lose yourself in ancient history and the essence of this culturally rich city.
Via Giulia – One of the oldest and most picturesque streets in Rome – it runs parallel to the river.
Via Veneto – The street made famous by Federico Fellini's film "La Dolce Vita", it is one of the most expensive and famous streets in Rome.
Piazza Campidoglio – Designed by Michelangelo, the Piazza Campidoglio is at the base of the most sacred of the seven hills of ancient Rome, the Capitoline, where the Temples of Jupiter and Juno once stood. At the top of the graceful steps leading to the peak is the fabled equestrian statue of the emperor Marcus Aurelius by Michealangelo. Actually, it's a copy; the original is in the Capitoline Museum on your left. Walk around the corner (as you face it) of the Senatorium for a panoramic view of the Roman Forum.
Trastevere – The district on the other side of the Tiber River that was once its own city and whose locals still maintain their own unique dialect and cuisine. Known for its restaurants and nightlife, as well as the amazing views from the Gianicolo.
Ancient Rome:
Pantheon
– This fabulous ancient monument was built and rebuilt several times, first by Agrippa who began it in 27 B.C. The present structure is the result of an early 2nd century A.D. reconstruction by the Emperor Hadrian. It still holds the record for the largest unreinforced concrete dome in the world. It is mathematically perfect: you can inscribe a perfect globe inside it. Michelangelo said it was designed by the angels. The open oculus in the center allows rain and snow to enter, and is especially spectactular at the right time of day when the sun shines it onto the floor. Art history enthusiasts will be interested in visiting the tomb of painter, Raphael, in the Pantheon.
Colosseum – Ancient Rome's huge amphitheater, was built in between 70 and 82 AD in the heart of Rome as a venue for gladiatorial and wild animal fights. Today, it's one of the most iconic monuments of Ancient Rome. While often crowded and very touristy, it still is something everyone must see when visiting Rome.

Roman Forum
– The Roman Forum, a huge complex of ruined temples, basilicas, and arches, was the ceremonial, legal, social, and business center of ancient Rome . The Roman Forum was the literal heart of ancient Rome, a center for trade, religion, and politics. It is best to take a guided tour of the ruins so you can have perspective on what each one represents.
Colonna de Marcus Aurelius – Erected in AD 180 as a copy of Trajan's Column and as a monument to Marcus Aurelius, it is carved with reliefs commemorating his victories over the barbarians.
Ara Pacis – The Altar of Peace dates from 9 BC. Made from marble and beautifully sculpted, probably by Greek artists, the panels form an enclosure around a base with an altar in the center. They have been restored and are now enclosed in a modern building designed by architect, Richard Meier.
Religious Rome:
Vatican City:
St. Peters Square (Piazza San Pietro) – As you approach the St. Peter's basilica, you will be walking through the embracing arms of Bernini's oval colonnade, which encompasses Piazza San Pietro. Stand at one of this oval piazza's "foci" to see the four-deep columns of the nearest colonnade suddenly line up to appear only one deep.
St. Peters Basilica
– The capital of Christendom and most magnificent basilica on Earth is a late-Renaissance/early-baroque masterpiece of architecture and decoration, an artistic collaborations across the centuries between the likes of Michelangelo and Bernini. Do not miss Michelangelo's Pieta…it brings me to tears every time I see it.
Vatican Museums/Sistine Chapel – The Vatican's magnificent collection of museums includes Michelangelo's Sistine Chapel ceiling, the Raphael Rooms, exquisite ancient Roman sculptures, and a painting gallery filled with works by Leonardo Da Vinci, Caravaggio, Raphael, Fra Angelico, and many more. I highly recommend taking a guided tour of the Vatican Museums to get the most out of your visit.
Around Rome:
These are only a few of the many churches that are in Rome…one of the beautiful aspects of visiting Rome is happening upon a church, walking in and discovering a Renaissance or Baroque masterpiece, a gorgeous mosaic or a simply a place to worship.
Santa Maria Sopra Minerva – Located just behind the Pantheon, built on the site of an ancient temple to Minerva, Santa Maria Sopra Minerva is Rome's only gothic church. Saint Catherine of Siena died here and is buried under the altar. Don't miss the beautiful Michelangelo statue of Jesus and the Cross, and the tomb of Fra Angelico . In front of the church is Bernini's elephant statue dating from 1667 and supporting a much older Egyptian obelisk found in the ruins of the Roman Temple of Isis which was nearby.
San Luigi dei Francesi – San Luigi has served Rome's French community since 1589 and boasts no less than three canvases by Caravaggio: La Vocazione di San Matteo(The Calling of Saint Matthew), Il Martiro di San Matteo(The Martyrdom of Saint Matthew) and San Matteo e l'Angelo(Saint Matthew and the Angel), together known as the St Matthew cycle.
Sant'Agostino – Apart from being a place of worship, the church is also significant for the beautiful paintings that adorn its walls particulary the painting of Madonna di Loreto by Caravaggio and those of Raphael and Sansovino.
Santa Maria del Popolo
– This Renaissance church contains Baroque additions along with various 18th- and 19th-century monuments, which add to the beauty of this structure. Walls and ceilings are decorated with paintings by some of the greatest artists ever to work in Rome, such as Raphael, Bernini, Caravaggio, and Bramante.
Santa Maria en Trastevere – One of the oldest churches in Rome, its foundations were laid in approximately AD 400, when Christianity was only just beginning to take root in Europe. The present edifice is dated 1300 and contains beautiful mosaics by Pietro Cavallini, especially those dedicated to the life of the Virgin Mary.
Basilica San Clemente – Another church dating back to the earliest beginnings of Christianity, it has been built upon in layers creating a virtual history of the Catholic church. The mosaics here are amazing.
Museums: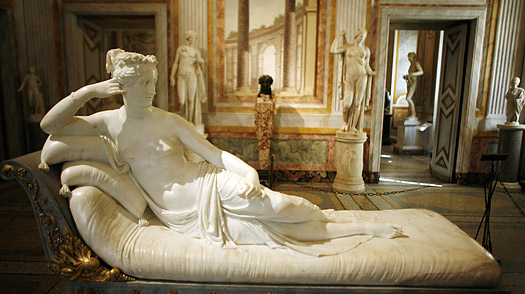 Photo of Pauline Bonaparte by Canova at Galleria Borghese via Wikimedia Commons
Keep in mind that much of the great art in Rome, whether Renaissance or Baroque will be found in the above mentioned religious sites. However, there are also several great museums in Rome that should be included on every itinerary:
Galleria Borghese – This is one of the world's greatest private art museums. The galleria et museo houses the city's most impressive Baroque art collection, displaying important works from Bernini, Canova, Caravaggio, Correggio and Titian. Be sure to get the audio tour so as not to miss any of the gorgeous works of art. Bernini's Apollo and Daphne and Canova's Pauline Bonaparte are my favorites.
Capitoline Museums – Atop the Capitoline Hill, where you will have a fabulous view of the Roman Forum are the Capitoline Museums. The piazza was designed by Michelangelo and the museums are the oldest in the world. Palazzo Nuovo has Greek and Roman sculptures and Palazzo dei Conservatori has art galleries, sculptures, and frescoes. Don't miss Michelangelo's Marcus Aurelius and paintings by Caravaggio and Velasquez.
Palazzo Colonna – Only open on Saturday mornings, this incredible private art collection is definitely worth making the effort to see.
Galleria Doria Pamphilj – Another private art collection and palazzo that should not be missed, as much for the viewing of the grand palazzo as for the amazing art collection.
MAXXI – If you get tired of all the Ancient, Renaissance or Baroque art, visit the newest museum in Rome, dedicated to contemporary art.
Lovely Parks and Views: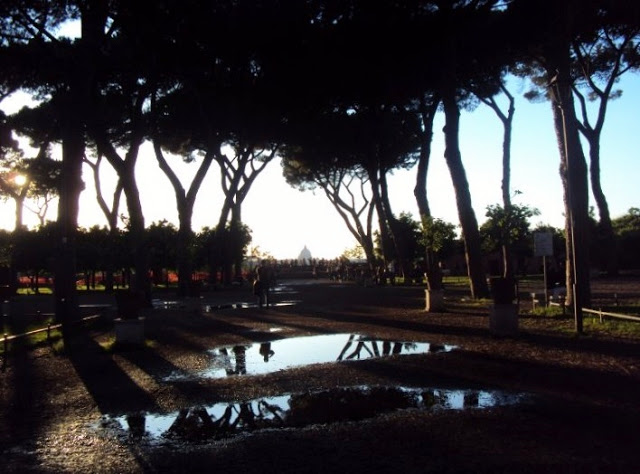 Photo of Parco Savello by my daughter, Caroline
Villa Borghese – One of the largest and most beautiful public parks in Rome ("Villa" here doesn't mean a home – it means park), this is a beautiful place to escape the hectic city and also to spend time prior to visiting the Galleria Borghese.
Pincio Gardens
– Linked by a bridge to the Villa Borghese, this pretty park overlooks the Piazza del Popolo and offers lovely views.
Gianicolo – In Trastevere, a walk along the Passeggiata del Gianicolo has some of the most beautiful vistas of Rome.
Parco Savello (aka Giardino degli Aranci/Garden of Oranges) is a small park on the Aventine Hill that has incredible views of the city. Nearby is one of the coolest places in Rome – peer through the keyhole at the Knights of Malta monastery for an amazing keyhole view of Rome and the Vatican.
Shopping/Markets: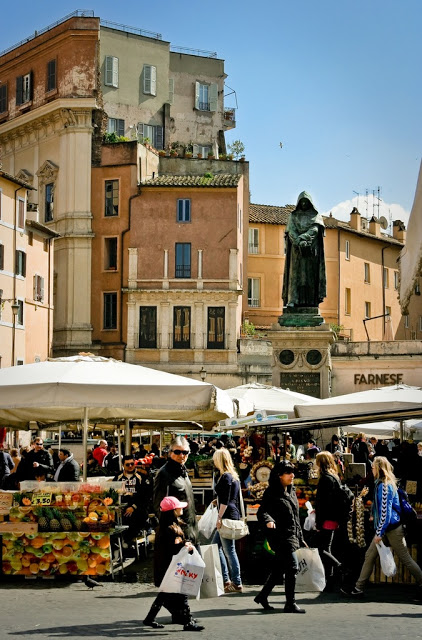 Photo of Campo de Fiori via Fotopedia
Campo De Fiori – Noisy and colourful, 'Il Campo' is a major focus of Roman life: by day it hosts a much-loved market, while at night it turns into a raucous open-air pub. Many of the streets surrounding Il Campo are named after the artisans who traditionally occupied them: Via dei Cappellari (hatters), Via dei Baullari (trunk makers) and Via dei Chiavari (key makers). Via dei Giubbonari (jacket makers) is still full of clothing shops.
Via Condotti , Via del Babuino, Via Margutta – Streets between Piazza del Popolo and Piazza Spagna known for excellent shopping ranging from high end designer labels to quaint artisans and art galleries.