When you are traveling with a family or a group, it's often less expensive and more convenient to rent a house, condo or apartment. While you may give up amenities such as daily housekeeping and concierge service, you gain so much more space with common areas where everyone can gather.
Having three children, I usually found it easier and more cost effective to rent a home or condo for family vacations when they were growing up. It's also nice to have a kitchen and living room to gather everyone together, and you can save on the cost of some meals by buying basic groceries to keep in the kitchen.
The best way to find a vacation home is through a direct referral from friends or family who have already stayed at the home. If that is not possible, I find that renting through a central posting site or a local realtor is preferable to renting directly through an owner you do not know (for example answering an ad on Craigslist) – the booking sites and realtors standardize their information and provide reviews from previous renters.
Some of the nicest vacation rentals are often through luxury fractional ownership "destination" clubs – these are similar to timeshares but are managed by five star hotel chains such as Four Seasons, Ritz Carlton or St Regis. Owners purchase a fraction of the year, usually one month, for their personal use. These residences offer the best of both worlds- five star hotel amenities and two to three bedroom full service homes or condos. I do not own one of these, but I have rented them on numerous occasions. Sometimes you can book directly through the club themselves, but you also can often find rentals available on the major posting sites below. Some of the ones I love and highly recommend are the
Ritz Carlton Clubs
in St. Thomas, Jupiter, and San Francisco,
The Four Seasons Residence Club
in Aviara, California and
47 Park Street (Grand Residences by Marriott)
in London.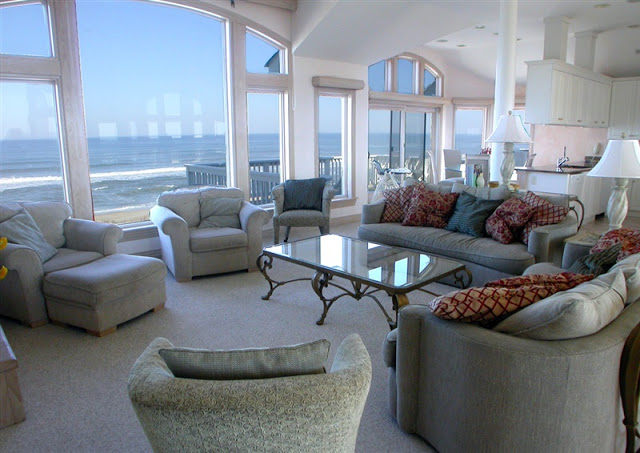 Oceanfront home in Outer Banks via Twiddy
Here are a few helpful sites to book homes both in the US and abroad:
Large Rental Posting Sites –
HomeAway is also known as VRBO (Vacation Rentals by Owners). I have used this site a lot to book both residence clubs as mentioned above and also private homes and condos. They have over 300,000 homes available for rent all over the world. They offer online availability calendars to check rates and available dates.
FlipKey is owned by Trip Advisor, Flipkey offers 170,000 vacation homes located in over 7,000 cities throughout the world. The staff of Flipkey verifies each owner so you know you can trust the person you are renting from. I have not used Flipkey but have heard good things about them.
Area Specific Rentals –
Haven In Paris
has properties in Paris, London, Tuscany and Provence. I have never used them but I love to read their
blog
! Their apartments look amazing!
One Fine Stay
's tagline is "Live Like a Local" and offers flat rentals all over London. Some of them are classic British and others are very hip.
Italy Perfect
offers rental homes and apartments in Rome, Florence, Tuscany, Venice and Amalfi. Sounds perfect to me!
Twiddy
is a local realtor in the Outer Banks of North Carolina. My
all time favorite vacation rental
is through them. I would be remiss in not mentioning Twiddy because I love the Outer Banks so much and renting a beach house is the only way to go there.
Nashaquisset
is the perfect place to rent a home in Nantucket if your pockets are not lined with gold. Nashaquisset is a quintessential Nantucket neighborhood with many different houses available to rent. It's not on the beach, but the neighborhood has it's own pool and tennis courts.
Luxury Destination Clubs (that may have direct rentals or search HomeAway or FlipKey for these properties) –
Ritz Carlton Destination Club
has locations in Jupiter,Florida; Lake Tahoe, California; Bachelor Gulch, Colorado; Aspen Highlands, Colorado; Vail, Colorado; San Francisco, California; and St. Thomas, USVI.
Four Seasons Residence Club
has locations in Aviara, California; Peninsula Papagayo, Costa Rica; Florence, Italy;Jackson Hole, Wyoming; Punta Mita, Mexico; Scottsdale, Arizona; and Vail, Colorado