Hi everyone! I just returned from a relaxing long weekend on Bermuda! I can't wait to share photos and details with you later this week. In the meantime, I thought I would share one of my most popular "travel tips" posts from the archives – discussing a question that every traveler always has – TIPPING!
The Tipping Point
(originally posted in October, 2012)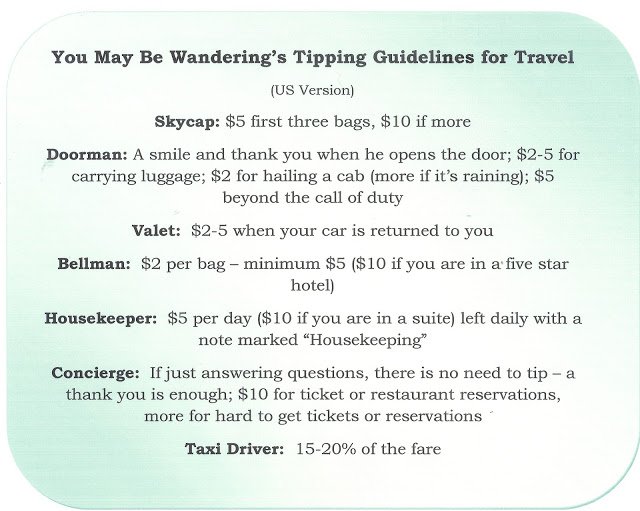 Even
veteran travelers struggle with the age old issue of tipping. There
are countless tipping charts, calculators and apps that should be able
to answer a lot of tipping questions, but it still seems to be a
conundrum for many. When I travel with my husband, he handles all the
tipping – he enjoys rewarding good service and he likes to tip well.
After our recent trip, I decided to share some of his tipping advice.
Prepare before you leave home
– Go to the bank and request ones, fives and tens. There is nothing
worse than only having large bills when it is necessary to tip a valet
or bellman. If you are budgeting for a vacation, include gratuities in
your budget and plan ahead how much you should tip various service
providers.
Research tipping guidelines for where you are traveling
– Some cultures frown upon tips (Japan and the South Pacific), others
are offended if you overtip (China) and many include gratuities on
dining bills (many European countries). Arm yourself with knowledge
about the cultural norms of the countries where you are traveling and
you will not risk offending anyone. For tipping guidelines around the
world check out CN Traveler's Guide to Worldwide Tipping.
Tip higher than the recommended guidelines to recognize exemplary service – A
few extra dollars probably doesn't mean that much to your travel budget
but recognizing excellent service by tipping a little extra will be
remembered by the staff. This is particularly true if it is a place
where you are a regular (or hope to become one).
Use the local currency
– Whenever possible, tip in the local currency so the person receiving
the tip doesn't have the added concern of exchanging dollars into their
own currency.
Don't penalize waiters and other staff for things that are not their fault
– Many waiters and service staff rely on tips for a living. If
the restaurant or the hotel makes a mistake, don't penalize the waiter,
bellman or other service staffperson.
Don't forget housekeeping
– It's hard work keeping a hotel room spic and span and it's thoughtful
to recognize this in the form of a tip. Leave a tip for housekeeping
daily because it may be a different person cleaning your room each day. I
like to leave an envelope or a note marked "Housekeeping" by the
bathroom sink where I know they will see it before I head out for the
day.
Read the fine print
– Many all-inclusive resorts do not allow tipping at all. Many cruises
include a gratuity charge on your rate so you don't have to worry about
tipping. Most hotels include gratuity on room service bills (but
remember gratiuty is not the same as service charge – the service charge
goes to the hotel not the person who delivers your food). In the US,
restaurants often add gratuity for larger parties, so be sure to check
to see if it is included. In Europe, particularly Italy and France,
gratuity is usually included in the bill, but if service is excellent,
it is nice to leave a little extra. Be sure to read your hotel rate
rules and check restaurant bills so you don't double tip.
There
is something very rewarding about making someone's day with a good tip
in response to their hard work and service – always be generous,
thoughtful, and, remember, a smile and thank you also go a long way.
*****************************************
Do you have any tips on tipping when you travel (say that three times fast!)?
One of the many things, I loved about Bermuda is that almost every place adds a 15-17% gratuity so there is absolutely no need to even think about tipping (we added extra when the service was exceptional). The hotel also charged a nightly gratuity fee – eliminating any concern whatsoever about tipping.
Stay tuned for my post (or, more likely, posts) about Bermuda…