Sharing it with your favorite book loving friends!!


There is nothing I like better than a girls' getaway…add an excellent book and the chance to meet a bestselling author (with a few umbrella drinks) and you have perfection!
Monica Hantho, a neighbor here Greenwich, has organized an opportunity for book lovers from all over the world to escape to the gorgeous tropical destination of Turks and Caicos to enjoy a fantastic two day event with bestselling author, Lee Woodruff.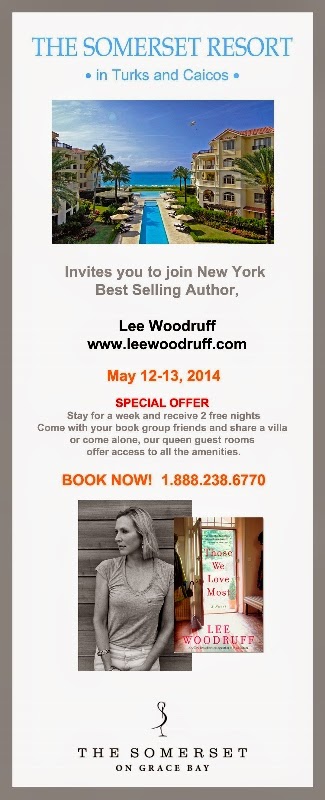 The concept for this event originated when Monica's book group took a trip to Turks and Caicos and they all read the same book and then discussed it in the evenings (presumably over umbrella drinks). They had such a fabulous time, that she decided to craft an event in which others could participate.
This event is being held May 12-13 at The Somerset on Grace Bay in Turks and Caicos. There are numerous activities during the event including a cocktail reception and dinner with author, Lee Woodruff, as well as two discussion sessions with her. Everyone attending has been requested to read Lee's debut novel Those We Love The Most in order to participate in the discussions.
After talking to Monica about this event, I couldn't help but think of the many possibilities for other book club retreats…for anywhere in the world!
What do you think? Have you ever taken your book club on the road?
~~~~~~~~~~~~~~~
Speaking of books…the giveaway for We'll Always Have Paris ends at midnight tonight…don't forget to leave a comment to enter. Winner will be announced on Wednesday!