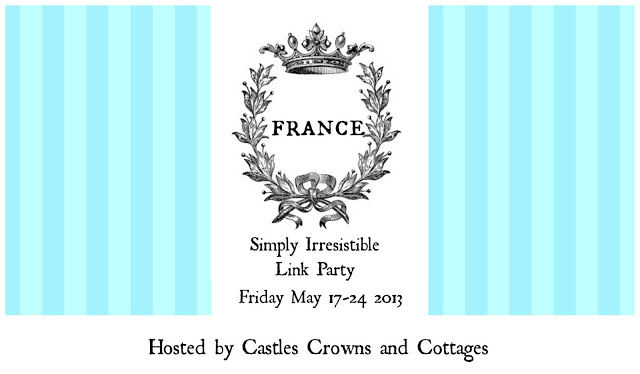 Be sure to click to hear the music…

Wow…what an amazing week this has been!! I have LOVED taking part in Anita's "France ~ Simply Irresistible" link party!! To wrap things up on the final day, I want to share my favorites among the many fascinating and delightful posts that were shared throughout the week. This is some serious eye candy, so sit back, relax and enjoy a very special virtual trip through 'la belle France' with these charming posts…

Anita, of
Castles Crowns and Cottages
, who sponsored this remarkable link party, kicked off the week with one of her glorious posts…be sure to turn on the music and scroll slowly through the stunning photographs for
her fabulous introduction
to the '
la fête'
…
Talk about a feast for the eyes…
Bonjour Paris
by Luisa Maria of
Personally Selected
may be one of the most beautiful blog posts I have ever seen. There are several video/music clips throughout to set the scene so be sure to click on those as well. At the top of the page is a "translate" option so you can read the words Luisa Maria wrote to accompany all this gorgeousness (I fell in love with this post before I realized I could translate it).
More loveliness comes from
Dreams on 34th Street
…in
Mon Rêve…Fille de Fleur
Lynne dreamed of opening a French flower shop…that also sells pastries…and has French book readings and art classes for children…I can pretty much guarantee you I would be a regular at her shop if she opened it near where I live.
Experience a delicious
Taste of Provence
, including a recipe for Vin D'Orange, which she calls "Sunshine in a Glass", from Sylvia at
Sylvia's Simple Life
,
Elizabeth, from
Pine Cones and Acorns
, shared her
Adventures in France
throughout her life (lucky girl – she has been to France quite a bit!) and also
Sweet Life
in France – she certainly has an eye for alluring photos and a taste for delicious sweets!!
Planning a trip to France with your children? Elizabeth, from
Pretty Pink Tulips
, shared some very helpful tips for
Traveling to Paris with Children
and some lovely pictures from her trip to Paris with her two sons.
In her post called
In the Garden
, Carol, from
Art and Sand
, told us about her spontaneous trip to Giverny and how it turned out to be one of her 10 best days ever.
Finally, Debby from
Inspired Design
took us on a
Mid Week Escape
to France that was the perfect virtual vacation from the middle of the week doldrums!
Aren't these posts incredible? They make you feel like you just took a mini-vacation to France!

Merci beaucoup
, Anita, for organizing such an amazing week of "simply irresistible" posts…
à bientôt
and have a great weekend, wherever you may be wandering…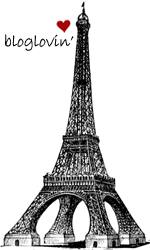 Folow me on Bloglovin'!