Whether you are a fan of the French Impressionists and Claude Monet or you just love beautiful gardens, you will enjoy this short day trip to Giverny. It is best to visit in the Spring when the gardens are at their most beautiful.
One important note…you will not find much of Monet's actual art in Giverny, however you will see the
inspiration
for much of his work. To see extraordinary examples of Monet's work in Paris, do not miss the
Musee D'Orsay
,
Musee Marmottan Monet
, and of course,
The Orangerie
with his stunning Waterlilies.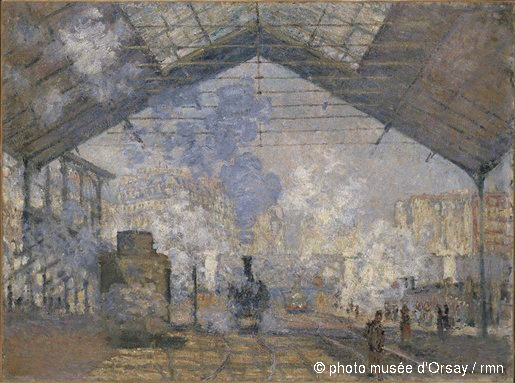 Le Gare Saint Lazare by Claude Monet, Musee d'Orsay
Your journey to
Giverny
will begin at the Gare Saint Lazare which hasn't changed all that much since Claude Monet painted it. Take the train to Vernon…an express train will take about 45 minutes. Upon arrival in Vernon, you can either take a bus, a taxi or rent a bike for the 5 km trip to Giverny and the
Monet Foundation
– Monet's home and gardens,where he lived and painted for 43 years.
This video is one of twelve from the Monet Foundation available
here
on Vimeo…you can even see what the gardens look like at different times of the year.
The pretty pink and green home is a lovely family home decorated in cheerful blue and yellow colors and displayed as it would have been when Monet lived there with his family. Monet's outstanding collection of Japanese woodblock prints that inspired him greatly are displayed in the house. His studio is lined with reproduction canvasses much as they may have been displayed while he was painting there.
Of course, the real highlight of any trip to Giverny is Monet's gardens…Monet himself said, ""My garden is my most beautiful masterpiece"…these pictures pretty much say it all…

Here you can see how the garden acted as his "muse" in much of his art: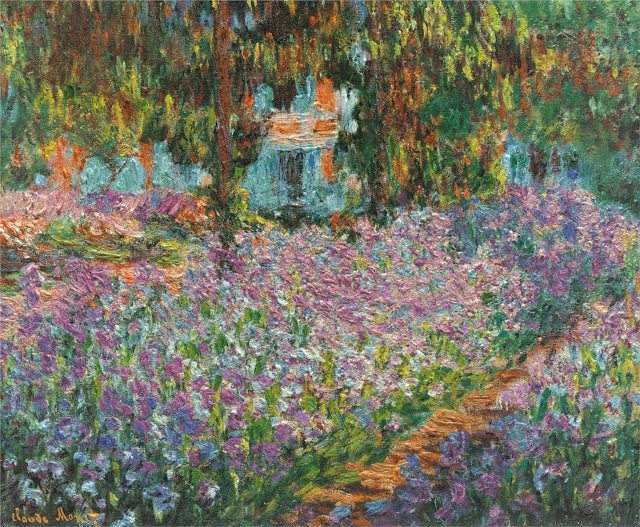 Irises in Monet's Garden by Claude Monet, Musee D'Orsay
via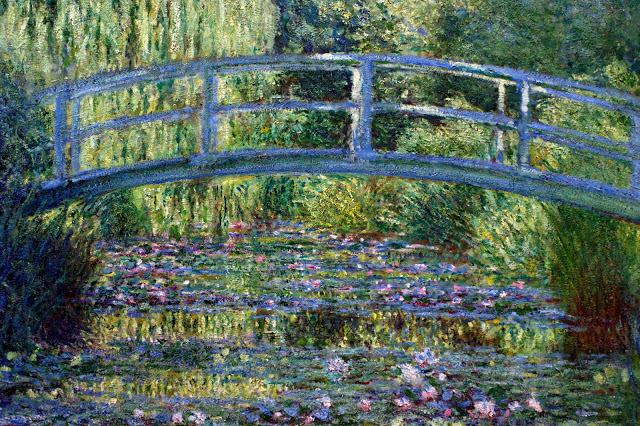 Le Bassin aux Nymphéas, Harmonie Verte by Claude Monet, Musee d'Orsay
After your visit to Monet's home and gardens, you may enjoy the town of Giverny where you can visit the various local artists' ateliers. Enjoy lunch or tea and the lovely gardens at the historic
Ancien Hôtel Baudy
which was frequented by artists such as Cezanne, Renoir, Rodin and Cassatt.
Check out the current exhibitions at the
Museum of Impressionism
which is dedicated
to the history of Impressionism and its continuation in the Giverny art colony
and along the Valley of the River Seine, before heading back to Vernon to return to Paris.
Things To Remember
Plan your visit for either early in the morning or later in the afternoon, as the gardens can get very crowded.
The Monet Foundation is open every day from April 1st to November 1st, from 9:30 am to 6:00 pm – last admission 5:30 pm…for more information go
here
.
For more information on getting to and from Giverny, including transportation from Vernon, go
here
. If you choose to take a taxi back to Vernon, the gift shop at the Monet Foundation can call it for you.
~~~~~~~~~~~~~~~~~~~~~~~~~
Thank you for stopping by for another petit voyage during the "France: Simply Irresistible Link Party"!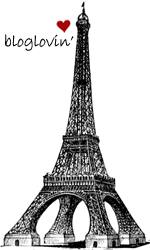 Follow me on Bloglovin'!