The shower was absolutely beautiful and I promise to post pictures as soon as I have a chance to sort through all of them.

The "Living Room" at Morrison House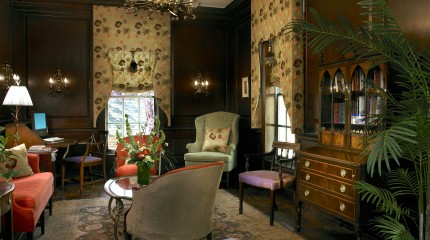 The Library at Morrison House
Everyone we encountered from the front desk staff to the bellman to the catering manager was genuinely helpful and caring. It was the type of service that seemed to come straight from the heart – they all seem to truly care about the hotel guests. For example, one evening when we arrived tired from shopping in the freezing rain, we sadly realized we were too late for the complimentary wine hour. Suddenly, a lovely staff member appeared with five glasses and a bottle of red and a bottle of white so we could relax and enjoy a glass of wine in the cozy library before dinner. It was this type of service throughout the weekend that really impressed me.
The Morrison House was the perfect place to host an event – from the banquet manager, Sarah, to our funny and friendly headwaiter, John, and the staff who assisted him, everyone took the extra effort to make sure that the bride-to-be had a truly memorable shower. The food was amazing, as well!
It was a wonderful and busy weekend that went by way too quickly. While it wasn't nearly enough time with my family, my short trip to Morrison House was just long enough to make sure that I put a return trip to this lovely hotel and to Old Town Alexandria at the top of my travel list for the Spring.