It's hard to believe it's the last day of August and Summer is about to end!!
Here are some fun travel stories I came across this week:
Wouldn't you like to be hanging out at one of these AMAZING pools this weekend?

It's your last chance to book these amazing deals in Italy on Jetsetter…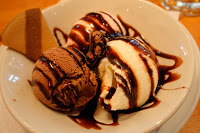 Photo via Fotopedia
And then sign up for this gelato tour!
The ultimate use of your frequent flier miles on Virgin Atlantic…
What did Disneyland look like in 1956?
Could you walk across these bridges?
Happy Weekend everyone!!!