Hotel Room Upgrades and Benefits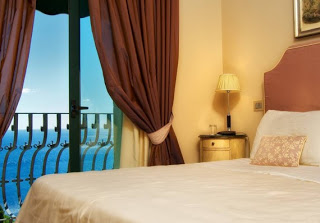 Do you belong to a hotel loyalty club? Many only require you to sign up to receive benefits on your first stay.
Small Luxury Hotels, a consortium of high end boutique hotels, offers a free upgrade on your first stay, after you join their complimentary Club. Once you have stayed at one of their hotels you are eligible for a complimentary room upgrade on every stay*, daily complimentary continental breakfast for two on every stay, late check-out* on every stay and access to exclusive Club rates. (* subject to availability)
Fairmont Hotels offers complimentary membership in their President's Club which will give you free internet access, special rates and other benefits just for signing up.
When you check in, always ask at the front desk if it's possible to get a room upgrade. If the hotel isn't fully booked, you may just get lucky. My husband and I twice were upgraded to huge luxurious suites at the Bellagio, Las Vegas just because we spoke up and asked.
Or, take the advice of Joe Essenfeld, Founder and CEO of Jibe, who suggests asking the front desk "Do you have a nice room for us?" – he says that gains him an upgrade 50% of the time. Smiling and being friendly to the person checking you in certainly can't hurt either.