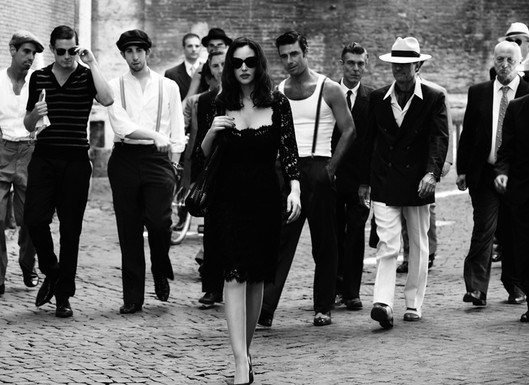 Photo from Martini Gold/D&G short advertising film…it reminds me of this photo.
Some of the top luxury brands have begun using short films, some of which are made by high profile movie directors, to showcase their products. These wonderful little films are incredibly well crafted and often feature wanderlusty locations where we all love to dream of spending our days.
Each video is less than four minutes long so enjoy at your leisure, perhaps over a nice glass of Prosecco. I think they are delightful!
This collaboration between Dolce Gabbana and Martini Gold is directed by Jonas Akerlund and stars Monica Belluci. The Fellini-esque short film takes place on the streets of Rome and is phenomenal:
One of my favorites is this one for Prada Candy perfume, directed by Wes Anderson and Roman Coppola and starring Lea Sedoux:
Here is another from Prada, directed by Roman Polanski and starring Helena Bonham Carter and Ben Kingsley…it's very funny.
Nobody does Paris better than Louis Vuitton:
The trailer from L'Icona from Ferragamo celebrating 35 years of their iconic Vara shoe (I loved them in the 80's and I still do!)…go
here
for the full film:
And finally, two more great Dolce & Gabbana ones…in Italy, of course:
Aren't they fun? Which is your favorite?