In 1951, Ninalee "Jinx" Craig, (she chose to go by the nickname Jinx because it seemed more exciting) decided to quit her job and hop on a ship bound for Europe. For the next six months the 23 year old traveled through Spain, France and Italy alone which was highly unusual for a woman at that time. When she ultimately returned home, she had only spent $1000 on her travels.
On a whim, the two girls decided to wander around Florence with Orkin shooting photos of Craig, documenting life as a young single woman traveling solo. Orkin photographed Craig admiring statues, asking for directions, haggling at markets and flirting in cafes for two hours. "We were literally horsing around," Craig said. The above photo called "American Girl in Italy" became famous. Many people thought it was staged but Craig said it definitely was not staged and that Orkin took only two shots to capture the Italian men looking lasciviously at the statuesque Craig. She also insists that the men were totally harmless.
From those two hours of spontaneous girlish fun, came these iconic photos…
Ninalee "Jinx" Craig is now 85 and a great grandmother living in Toronto. I can imagine she has some fascinating stories to share with her great-grandchildren!!When interviewed recently she said "My life has been wonderful…I am ready for more!".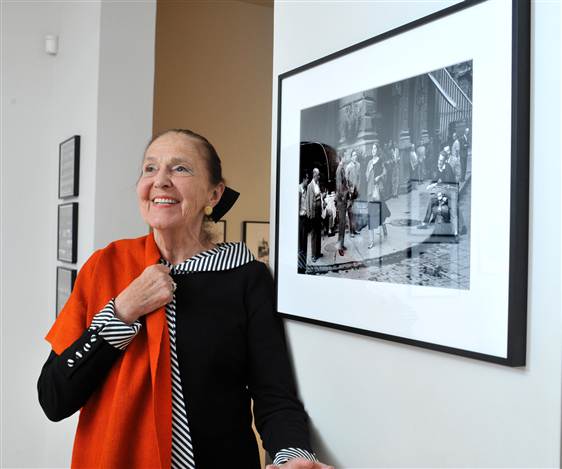 via Toronto Star
Ninalee Craig pictured recently with the orange shawl she was wearing in the photos. She is still gorgeous, isn't she?