The Italians take their coffee very seriously…very, very seriously. As a result, it is important to have a little knowledge of Italian coffee "lingo" before visiting.
Begin by throwing anything and everything you have learned at Starbucks out of your head immediately – contrary to Starbucks' use of Italian-ish in their drink descriptions, nothing they serve even remotely resembles what you will find served in Italy. To date, there isn't a single Starbucks anywhere in Italy. (A good thing because the coffee is SO much better in Italy, but bad because Starbucks can always be counted on to have a decent bathroom!)

Cafes in Italy are different than the coffee shops we might find at home or the sidewalk cafes of France. For the most part, they are essentially bars, which serve coffee and pastries in the morning and afternoon, and drinks at night. Patrons generally stand at the counter while they consume their beverage of choice. If you choose to sit at a table, there is often a surcharge for this privilege (not to mention, the associated "tourist" label). However, after days of sightseeing, you may not care about the additional cost or the stigma and just be happy to sit for a few minutes – it is fine to sit down. Also, keep in mind Italian cafes do not have "to go" cups.
How to Order Coffee in Italy:

"Caffe" refers to a single shot of espresso in a small demitasse cup. There is not need to call it espresso as that is implied in the word Caffe.
"Caffe Americano" is a Caffe (espresso) with added water served in a larger cup.
"Cappuccino" is usually one third espresso, one third steamed milk and one third foam. Generally, cappuccino is served alone or with a pastry, NOT after a meal (Italians believe that the dairy inhibits digestion) and is not ordered after 11:00am.
"Caffe Macchiato" is espresso with just a touch of steamed milk (from the Italian word "macchiare" or to stain" – the caffe is simply "stained" with milk.
"Caffe Marocchino" is espresso with a layer of cocoa powder toped with foamed milk. Sometimes called an espressino or mocacchino.
"Caffe Corretto" is an espresso served in a demitasse cup with a shot of liquer, usually either grappa or sambuca. Often served after dinner.
"Latte" means milk…so if you order a Latte in Italy you will receive a nice tall glass of milk.
"Con Panna" means with cream, but it isn't liquid cream we would normally put in our coffee – it is freshly whipped cream.
"Granita di Caffe" is basically a coffee slushy…more on this below, but I recommend ordering it "con panna".
"Zucchero" is sugar. Italians almost always add sugar to their coffee as it is very strong. Even if you don't usually add sugar to your coffee, you may want to consider it while in Italy.
~~~~~~~~~~~~~~~~~~~~~~~~~~~
Now that you know what to order, here are my three favorite cafes in Rome:

Sant' Eustachio il Caffe – Hands down, the best cappuccino I have ever had in my life. It is a MUST GO for anyone visiting Rome. Seriously, you haven't been to Rome, if you haven't been to Sant' Eustachio.
Tazza D'Oro
– Caffe to rival Sant' Eustachio, but the real reason to go here is the Granita di Caffe con Panna…to die for…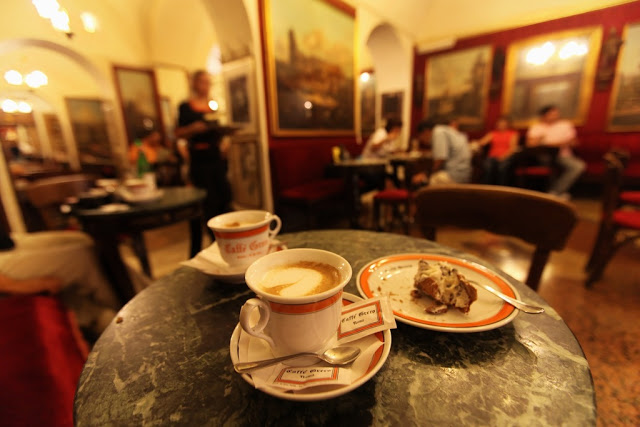 Antico Caffe del Greco via
Antico Caffe Greco – A different experience altogether, the posh Caffe Greco has been around since 1760 and has served esteemed patrons such as Goethe, Lord Byron and Casanova! It is more in the tradition of the grand cafes of Paris. As longer as you are going to be paying up for your drink here, you might as well sit and enjoy being waited on in the beautiful surroundings.
Once you have tried these places, you will never want to go to Starbucks again!