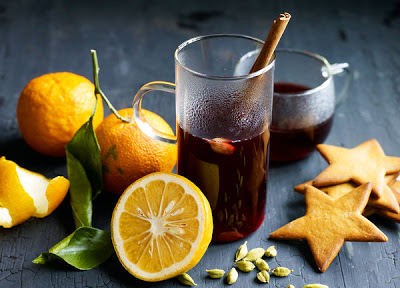 Photo of Glogg via NY Times
It's
Thirsty Thursday
and time for a little holiday cheer from Sweden to celebrate Santa Lucia Day.
Glogg
is a mulled wine, made with orange peel and spices traditional to Swedish holiday celebrations. A recipe for Glogg from the New York Times can be found
here
. Have you ever made it? It seems like it would make the house smell wonderful.
Santa Lucia (or Saint Lucy's) Day
is celebrated on December 13th in Sweden and other Nordic countries, as well as in Sicily, the birthplace of Santa Lucia. Celebrations involve a procession with a young girl chosen to portray Santa Lucia by wearing a crown of candles on her head, while sometimes carrying a tray of Lusseketter Buns for her family. Santa Lucia, the saint of light, is believed to have carried a crown of candles on her head to keep her hands free in order to feed Christians who were being persecuted by the Romans.
How did it come to pass that the feast day of a Sicilian saint came to be venerated so widely in the mostly Lutheran Nordic countries? After the Protestant Reformation, many of the earlier pagan traditions were being eliminated in favor of Christian traditions. According to the Julian Calendar, December 13th was the Winter Solstice, a pagan celebration that is at the root of many of our current holiday traditions today. It is also the Catholic feast day of Santa Lucia. It made sense to combine the two, and, thus December 13th, Santa Lucia Day, became a celebration of light on one of the darkest days of the year.