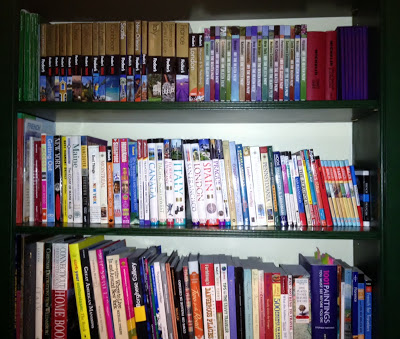 My guide book collection
In an earlier post, I talked about travel literature – all those lovely, well written books that inspire us to travel simply by the written word. Nothing will make you want to hop a plane to Paris faster than Hemingway's A Moveable Feast. But what about guide books? Everyone has their own style of traveling and there is probably a guide book that will satisfy every different style, but here a few that will suit just about anyone:
Knopf Map Guides – My number one recommendation – I don't like to travel to any new place without a Knopf Map Guide in my bag – it's good thing they make them for 44 cities around the world. They are a map and guide book all in one with manageable fold out maps. Each city is divided into six smaller maps so you do not get overwhelmed trying to look at a map of an entire city – you can focus on the neighborhood where you are. Each map has the sites in the area listed with concise descriptions, as well as recommendations for restaurants, bars and cafes and shopping. Their recommendations have not let me down yet. Small and lightweight, they fit easily into a handbag or pocket – plus you don't look like a tourist with a gigantic map unfolded trying to figure out where you are.
DK Eyewitness Travel Guides – Their tagline is "the guides that show you what others only tell you". These books, which are available for a multitude of locations around the world, have amazing photography and detailed descriptions of tourist attractions. They are often quite heavy given the wealth of information they provide, so I like to travel with the book but leave it in my hotel room. The night before I set out on my day's adventures, I read the DK in depth descriptions of the sites I will be visiting the next day so I will be well schooled on what I am seeing. They also now have apps for IPad, IPhone and Android for ten major cities.
Fodors Guidebooks – I have always been a big fan of Fodors. They may not have the eye catching photos or detailed descriptions of the DK books, but their recommendations are always spot on. I have never gone wrong with a "Fodors Choice" restaurant or shopping recommendation. For good solid travel information, Fodors is the way to go.
Off the Beaten Path – These guides are great for traveling around the United States, especially for areas that you already know really well. I have found some really interesting attractions that I never knew existed in places where I have been many times. Perfect for day trips.
Great travel takes a little preparation – use these books as your reference point and you are on your way to an amazing trip.